Dentrix G6 Beta Update
Over the last few months, I have received some inquiries about how the Dentrix G6 beta is going. I am pleased to say that we have received a lot of great feedback from our beta customers. The comments from the group have generally been very positive. One customer stated, "Overall this has been the best upgrade yet. G6 is much more user friendly and more visually pleasing . . . than the past versions." Others shared this sentiment when they wrote, "I would say that our satisfaction with G6 is high" and "We are really enjoying G6."
In our last issue of the Dentrix Magazine I described some of the top new features in Dentrix G6. Since then we have added a few more. These newest enhancements, along with other improvements requested by our beta customers, were released in a beta 2 version in November.
Some of the most exciting additions we made for beta 2 were in the Appointment Book. The Dentrix MyVoice request to add more options and customizations to the Appointment Book view has, in large part, been fulfilled. The Appointment Book shows more information on the appointment, such as mobile phone number and email address. Options were also added to display the patient's age, chart number, referral source, primary insurance plan, appointment status, and any continuing care attached to the appointment. We have also added new fields in the Appointment Book's Enter New Patient Information dialog box where you can now specify a mobile phone number and email address (Figure 1). Also, the time bar now appears highlighted for the time of the selected appointment, making it easier to see the exact time of scheduled appointments (Figure 2). In addition, when you rest your mouse pointer over each provider color bar on the side of the Appointment Book, the software now displays a tooltip that identifies the associated provider. A new option also allows you to hide the providers' color bars.
Of course new features aren't limited to the Appointment Book. Perio records, just like Ledger transactions, will now move into history as part of the month-end process. This will ensure that previous Perio exams cannot be changed. We have also made it easier to see which Dentrix modules are still open on which computers when closing out the month. And this is all just the tip of the iceberg. For more information about what's coming in Dentrix G6, visit our website at http://www.dentrix.com/products/dentrix/whats-new.
As we continue the beta process, we would love to receive feedback from more of you. If you are interested in participating in the Dentrix G6 beta, please send us an email request at beta.dentrix@henryshein.com. As a beta customer you have the ability to influence the product development and refine the new features before they release in the final version.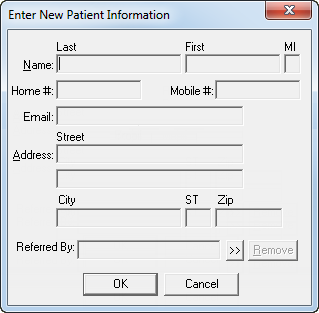 Figure 1. New fields were added for mobile phone number and email address.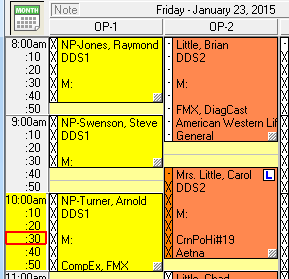 Figure 2. The time of the selected appointment is highlighted on the time bar.
Author:
Brad Royer, Dentrix Product Manager
Published:
12/31/2014