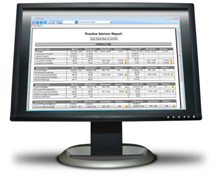 In today's economy, tracking your practice's key performance indicators (KPIs) is critical. The Dentrix Practice Advisor, was introduced in Dentrix G4 Productivity Pack 7, collects your practice's KPI statistics for production, collections, continuing care, scheduling and new patients. The Practice Advisor compares your KPIs to industry-standard benchmarks and gives you recommendations to help you make your practice more profitable.*
This tutorial will teach you how to set up the Practice Advisor, run and read the Practice Advisor Report, and view past Practice Advisor Reports.
Visit the Dentrix Resource Center today and view the Practice Advisor profitability tutorial. Access to the Dentrix Resource Center is free for Dentrix practices on a Customer Service Plan. If you don't currently have a Dentrix Customer Service Plan, sign up today, 1-800-DENTRIX.
* Recommendations are provided by industry consultants such as Pride Institute and Jameson Management Consulting.