Introducing Dentrix G6

At Henry Schein, we constantly evaluate our products and services to ensure we provide solutions that improve your practice and make your job easier. One of our fundamental principles is listening to our customers so we know and understand what dentists and their staff need to streamline workflow and create a successful practice.
Dentrix G6 demonstrates our continued commitment to listening to our customers. We gathered customer feedback via our online suggestion box, social media polls, and industry conferences. Many of you will probably recognize new features and enhancements in Dentrix G6 as improvements you requested. With Dentrix G6, we are pleased to again offer you exceptional new tools, features, and functionality you asked for.
What's New in Dentrix G6?
For more than two decades, Dentrix has been the leader in practice management software. Based on your feedback, we continue to release new tools, such as Profitability Coaching and the Practice Advisor, that make it easier for you to improve practice profitability. Dentrix also now gives you the option to bundle electronic services such as patient reminders, electronic claims, and attachments with a customer service plan in order to save you money. With Dentrix G6, we continue the legacy of helping you succeed by offering the following new features and enhancements.
Ledger Enhancements
Dentrix G6 provides more ways for you to customize the Ledger to meet the needs of your practice. You can now select which columns to show and hide. You can sort the Ledger simply by clicking on the column header and resizing each column as needed. We have also added several new columns: Surface, Check #, Has Note (N), Has Referral by (R), Has Diagnosis (D) and Has Medical Cross Coding (M). These provide you and your staff with more detail for each procedure.





Insurance estimates now appear in red at the bottom of the Ledger until a claim is created.
Split Payment by Family Member
The number one requested item on the Dentrix Enhancement Request Forum, MyVoice.Dentrix.com, was to split payment by family member. Now you can automatically allocate payments to those family members who have a balance. Payment allocation works similar to split payment by provider. And where patients have seen multiple providers, it can also split payments between those providers. You can set up the new payment options as your default method so future payments will continue to be split the way you specify.
To split a payment by family member, with a patient selected in the Ledger, from the Transaction menu, click Enter Payment to display the Enter Payment dialog box.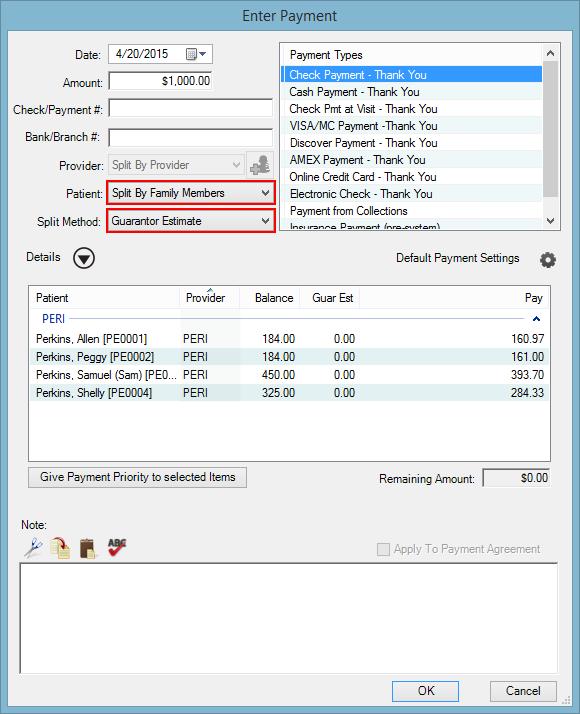 Set Patient to Split By Family Members, specify a Split Method, and then provide the additional payment information as needed.
Appointment Book Enhancements
Dentrix G6 users rave about the enhancements in the Dentrix G6 Appointment Book. According to office manager Rick Spearow at Summit Dental Group in Nebraska, these changes "speed up many of the tasks in the front office and simplify them." He continues: "The visual improvements, including highlighting, are very beneficial and have cut down on mistakes."
Appointment Book enhancements allow you to do the following:
Include an additional provider on each appointment to improve patient care. Although the appointment will still show the color of the first provider, you can view the additional provider from the appointment block, the Hover window, the Appointment Book View Report, the Route Slip, and the Patient Visit Form.
Use Set Complete to review all of the scheduled procedures and easily select the rendering provider for each procedure before posting to the Ledger, and clear procedures that you don't want to post.




Schedule appointments according to treatment plan cases and visits more easily.
Identify who created an appointment and the appointment creation date in the Appointment Information dialog box, the Appointment History dialog box and the Hover window to improve staff management.
Add a new patient's mobile phone number and email address directly in the Enter New Patient Information dialog box to provide more contact information.
Select from more patient and appointment details for Print Appointment Book View, including the additional provider, mobile phone, other phone, email, age, birthdate, primary insurance, guarantor name, appointment status, and continuing care attached.
Automatic File Acquisition with Any Document Scanner
If you are tired of being required to use a specific document scanner or are having issues with your current scanner, it's time to update your software to Dentrix G6. With G6, you not only have the freedom to use any document scanner you choose, but you can now automatically upload files directly to the Document Center, streamlining your workflow and reducing the number of clicks required to make scanned documents accessible to your staff in the software.
From the Acquire menu in the Document Center, click Screen Capture, then click Setup Defaults. In the Setup Acquisition Method Defaults dialog box,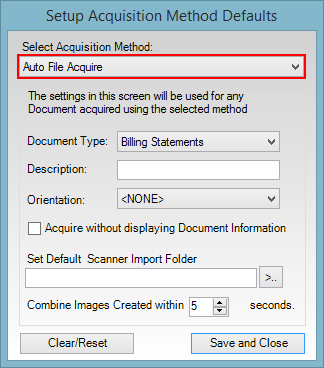 under Select Acquisition Method, select Auto File Acquire. When finished, click Save and Close.
Contacts Database
Consolidate all of your contacts into one database that allows you to quickly search for and view information for patients and other non-patient contacts. To open eDex, click the new eDex icon that appears on the toolbar in most Dentrix modules.





With a single search by first or last name, address, email address, or phone number, you simply start typing and eDex quickly narrows down search results to facilitate finding the contact you need. You can launch other Dentrix modules directly from eDex with patient information already selected for you. You can also filter the type of contacts you are looking for.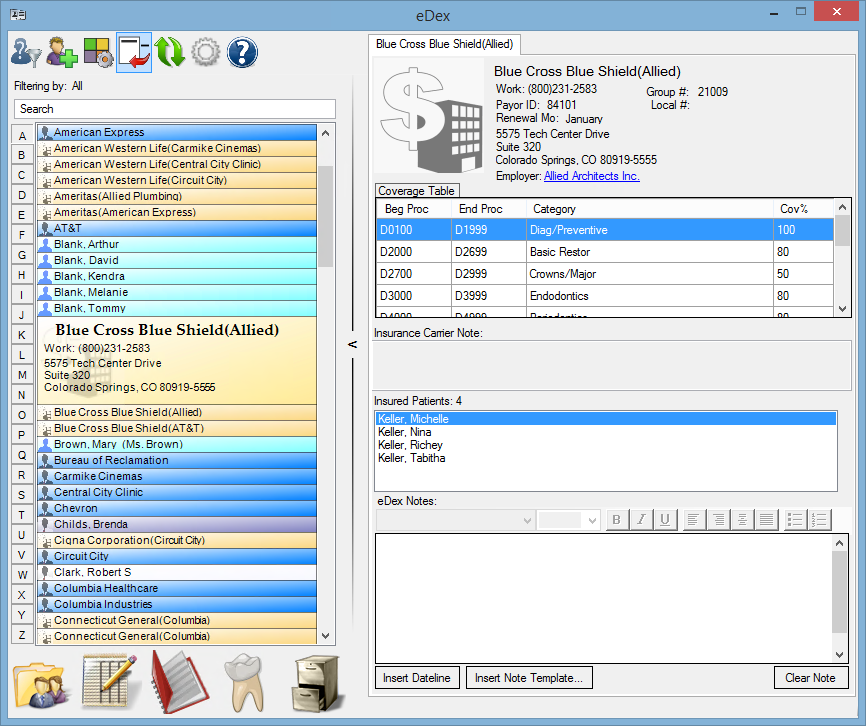 Medical Alert Notes
Medical alerts are critical in helping provide quality care for patients. However, until now, medical alerts in Dentrix have been limited to short (one–to three–word) descriptions of the patient's condition. Dentrix G6 introduces medical alert notes that allow you to expand on the information provided about each patient and identify critical care issues.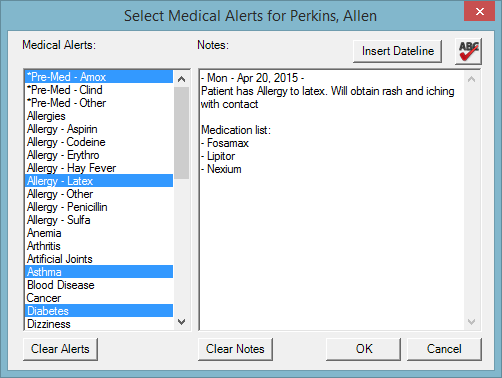 In addition, you can date — stamp the note to give you a frame of reference for each note and ask the patient about updates if required. Jayme Marks at Kaplan Dentistry in Cincinnati said, "Medical alert notes have been the most useful new feature in Dentrix G6 for our office because we are now able to have a medication list and medical alerts in one area. We really like this feature!"
To use the new medical alert notes feature, with a patient selected in the Family File, click the Medical Alert block. In the Medical Alerts dialog box, click Edit.
Letters and Custom Lists
A new List Manager lets you create custom lists of patients who need follow—up, including patients with or without an email address, patients who referred new patients and other customizable categories.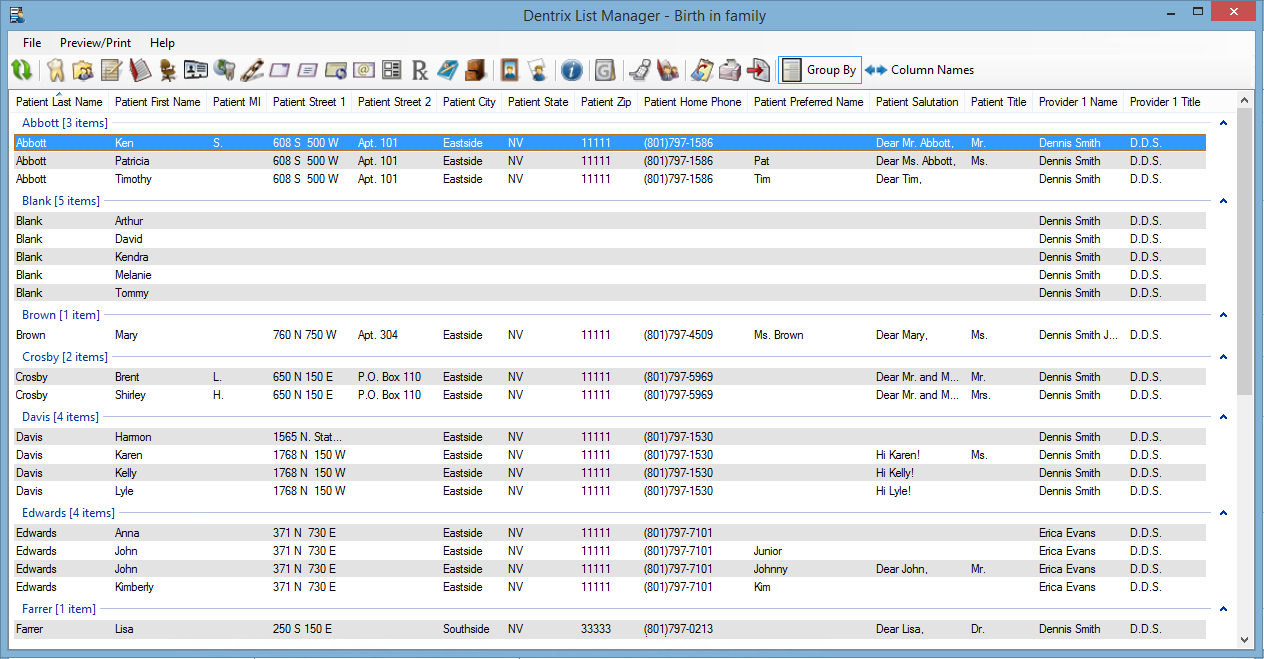 You can work from the list within Dentrix and more easily generate letters and postcards for your patients.
Receiving the Update
At this point you may be wondering, "When will my office receive this update?" As mentioned earlier, we have changed the way you upgrade to Dentrix G6. Customers who are currently subscribed to a Dentrix Customer Service Plan can go to www.Dentrix.com/G6 to request the update immediately and you will be given access to the update within 24 — 48 business hours from the time of your request. If your office is not on a customer service plan, now is a great time to re-enroll by calling 1-800-DENTRIX.
Learn More
To learn more about Dentrix G6, see the Dentrix G6 Release Guide available in the Dentrix Resource Center . See "How to Learn More" on page 2 for instructions on accessing these resources.
Author:
Brad Royer, Sr. Product Manager, Dentrix
Published:
05/31/2015