TechCentral's New Solution Development Center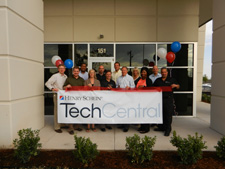 Henry Schein TechCentral is moving to new headquarters, and that means great things for our customers. More than a simple address change, the expanded facility in Arlington, Texas, will allow TechCentral to offer faster, more efficient IT service to dental practices across the country.
To celebrate this exciting development, Henry Schein kicked off the new building's grand opening with a ribbon-cutting ceremony on October 26.
New building, new capabilities
By successfully providing technology solutions to dental practices, TechCentral has experienced impressive growth. In fact, TechCentral provided more than 2,000 dental practices with office networks last year alone. The new facilities give TechCentral even more capacity for future expansion. TechCentral director Robert Staub says, "The new office and warehouse allow us to continue to improve the way we deliver service to our customers. We are investing in a larger product development area to get more solutions out quicker to customers and better integrate the solutions into the TechCentral network."
With double the warehouse space of its previous location, the facility allows TechCentral to keep more products in stock, which in turn results in quicker response to customer needs. As the number of practices relying on TechCentral for computer and network support continues to grow, TechCentral will be able to expand the expert support teams that provide phone support and secure, over-the-Internet configuration support. The new building also provides three times the training space TechCentral previously had, for regular and advanced hands-on training of Henry Schein field technicians.
End-to-end service
TechCentral's sole focus is technology solutions for dental and healthcare practices. It's staffed with design engineers, trained field techs and certified technical support reps who understand the various challenges practices face. Staub explains: "Healthcare providers leverage technology for taking digital x-rays, maintaining electronic records, scheduling, etc. These practices require a stable, high-performance network to get the most out of their investments. TechCentral designs our network to perform at its most optimal level to keep practices productive and secure."
TechCentral listens to what an individual practice needs, then puts together a suite of applications and integrated hardware that meet those needs. And they do it with very little interruption to the practice's day-to-day operations. From solution planning to procurement to implementation, TechCentral handles it all to make sure the process is as seamless as possible.
A legacy of support
For more than 15 years, TechCentral has fulfilled its mission to help healthcare providers get the most out of their technology investment—by providing reliable, integrated solutions and simplifying practice management. With solid IT support, dental practices can be more productive, improve their professional image, and increase their level of clinical care.
Staub says clients appreciate the free 30-day support period after an implementation, as well as the quality of support: "We offer the best support in the business, with the highest satisfaction rate. Nine out of 10 support calls we take result in our experts solving the problems without having to ever dispatch a technician to the customer site. Our customers appreciate the fast resolution so they can quickly get back to their practice."
Henry Schein is leading the way
As part of the Henry Schein family, TechCentral's facility upgrade represents a strong investment in solving the technical needs of the healthcare community. Henry Schein recognizes the importance of technology in today's dental practice, and is committed to providing the highest level of IT support, expertise and service to all of its customers.
Author:
Jason Werner
Published:
11/22/2011