PCs and Infection Control
In Henry Schein TechCentral's world of computer solutions, infection control means protection from both digital computer viruses, and germs in the physical world.
I've covered computer malware (the universal term for computer hacks, viruses and other nasties that continually try to harm your PC and your practice data) in several past TechCentral TechNotes. Now let's talk about keeping the exterior surfaces bug-free as well.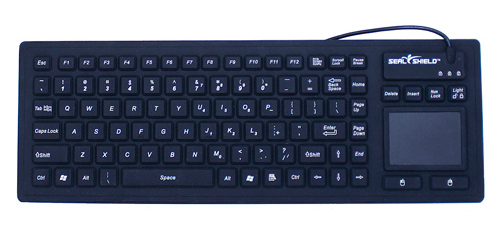 TechCentral offers several models of antimicrobial, waterproof keyboards and mice, including this silicon coated keyboard with integrated touchpad.
Infection control plans and procedures are an important part of day-to-day operations and they are critical to both your business and your patients. Well-defined cleaning protocols must include regular treatment of operatory surfaces—including keyboards and mice. With the industry's available mix of wipes, sprays and cleansers, you have many tools at your disposal. In addition, TechCentral now offers a line of unique keyboards and mice to help you in your constant battle against bugs.
Recently, TechCentral began offering products from Seal Shield, an innovator in medical and dental computer accessories. Seal Shield products are antimicrobial, waterproof and fully submersible and dishwasher safe. Most so-called "spillproof" keyboards can take only a limited amount of moisture before they stop working, and keyboard covers can be cumbersome to use at times, but not Seal Shield keyboards and mice.
The Test!
Being a bit of a skeptic, I wanted to test Seal Shield's claim before TechCentral offered them to customers. So I submerged a keyboard in my son's fish tack and started typing. The kids got a real kick out of my "Facebooking the fish," as they put it. Perhaps my test was a bit unrealistic compared to your practice's computer use—unless you specialize in underwater dentistry for large marine mammals. And yes, the keyboard passed my dunk-and-type test. Very impressive!
These products can be washed in a diluted bleach solution to disinfect them thoroughly. And I do mean washed, not just gently passed over with a damp wipe (see photo above). Additionally, Seal Shield products contain a silver based antimicrobial, fungistatic additive which protects the products from mold, mildew and the spread of microbial bacteria and viruses on the products' surfaces.
A New Level of Protection
TechCentral's offerings of Seal Shield products include several options to match your personal preferences and counter-space requirements. One option is a keyboard with a touch pad, akin to those found on laptops, eliminating the need for a mouse. It retains the touch and feel of a traditional keyboard's letter buttons but is fully encased in silicon, which leaves no cracks or crevices between letters for debris to fall in or in which microorganisms can grow. Other options include a traditional keyboard and mouse in both wired and wireless configurations.
Preventing just one infection from a contaminated keyboard can easily cover the cost of antimicrobial keyboards and mice for your entire practice. Keep it clean! Include Seal Shield washable keyboards and mice as part of your infection control plan. Learn more at:
http://www.henryscheintechcentral.com/product
Turn to TechCentral for answers
Henry Schein TechCentral specializes in assisting practices with every step of their business technology investment, deployment and support. TechCentral can customize a computer network solution for digital practices of any size. For more information about TechCentral and what it can do for your practice, call 877.483.0382 or click: www.henryscheintechcentral.com
Author:
Jason Werner
Published:
04/26/2012