The Forgotten Patients
I don't know of one dental practice that has patients lined up outside the front door waiting for services. Many practices focus on getting patients in the front door instead of paying attention to the best patients: those who have benefited from their services in the past.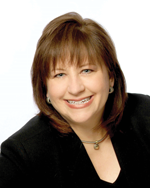 Patients are falling through the cracks in the majority of practices, with a patient retention average of 55% or less. If you want to see how well your practice is doing, take a look at your patient retention and you will get an accurate account. Are more patients leaving through the back door than coming in through the front?
When I ask dentists how they would like to improve their practice, a common response is that they need more patients. They are usually concerned about patient flow, but tend to skip key practice management protocols to keep patients coming back.
Retaining patients is vital to your practice's expansion and viability. Work on adding value to visits and building stronger relationships with your current patients. The longer a patient stays away, the less likely it is that they will return to your practice.
The following are three common ways patients can fall through the cracks:
Lack of a solid recall and reactivation system - Most practices believe they have a recall system that works, but I rarely find this to be the case. The strongest systems include a written plan that states who is responsible for what and an exact schedule for sending cards and emails. This helps staff members follow the system exactly, month after month. Even if you use Dentrix services like automatic appointment reminders, stay aware of the timelines and templates you have set up. Practices that have these systems in place continue to grow despite the economy.
Staff unfamiliar with dental software - Every team member must be trained on the software. Your Dentrix software allows you to do many things to help prevent patients from falling through the cracks. For example, use the Continuing Care module to find patients who are overdue for recall appointments or the Treatment Manager to track patients with outstanding treatment plans.
Little or no communication with patients - It is important to communicate with patients using recall cards or emails, reactivation projects, birthday cards, holiday cards, etc. The more you send out, the more appointments you will get.
One of the most important things you can do to build a practice is to put your attention on your current patient base. I recommend that you do a reactivation project similar to the one below every year.
Reactivation Project
Step one: Generate a list
The average practice has 750 to 1000 patients overdue for their recall appointments. This is largely due to weak or nonexistent recall and reactivation systems. To learn how many overdue patients you have in your practice, generate a list in the Continuing Care module. You want to find out how many patients haven't been in for six months or longer, going back three to five years. Follow these steps:
Open the Appointment Book and click File > Continuing Care.
Select View > All to see all patients who are overdue for recall. From there you can set up a temporary view to narrow your search.
Click Views > Temporary View.
In the Last Visit Date Span group box, change the dates from five years to six months and click OK. You will be surprised at what you find (Figure 1).
Note: In order for patients to appear on the continuing care list, you must be attaching continuing care to patients in the Family File. If you are not attaching continuing care to patients, you can run the inactive patient list in the Office Manager to find patients with a last visit date that was at least six months ago.
Step 2: Select a recall card
Choose a recall card to be mailed to each person on your list. You may also consider combining this with emails. The recall cards and emails should look different than what you have sent in the past.
Step 3: Customize your message
Our surveys show the following message gets the best response:
Dear Jane,
We miss seeing you in our office. As you know, when dental decay, gingivitis, periodontal disease or other complications are discovered in early stages, treatment is less complicated and costs less. Please phone the office at [insert your phone number including area code] for a convenient appointment.
Step 4: Repeat the message
Send the same card and/or email message to the same group of patients at least two to three months in a row.
When you work to implement a solid patient retention system, you will not only fill your schedule—you'll enjoy a steady flow of patients and build a much healthier practice.
Learn more
To learn more about generating the continuing care list, see the Continuing Care List View Options topic in the Dentrix Help [link to help] or visit the Dentrix Resource Center [link to resource center] to view the Managing Your Continuing Care System webinar recording.
Sandy Pardue is an internationally recognized lecturer, author and practice management consultant. She has assisted hundreds of doctors with practice expansion and staff development over the past 25 years. She is known for her comprehensive and interesting approach to dental office systems, and offers a refreshing point of view on how to become more efficient and productive in a dental practice. Sandy is Director of Consulting with Classic Practice Resources and was named a "Leader in Consulting" by Dentistry Today magazine for the past 10 years. She is also a consultant to leading dental companies for product evaluation and design.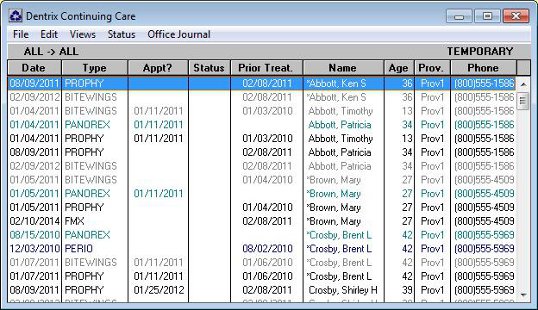 Figure 1: Use the Continuing Care module to get a list of patients who are overdue for their routine cleanings and exams.

For additional ideas and advice, download Maximizing Continuing Care in Your Dental Practice. In this free eBook, Wendy Briggs shares the three R's for increasing continuing customer care
Author:
Sandy Pardue
Published:
04/26/2012