"Chatting" in the Front Office Now Pays Off
Dentrix eCentral continues to evolve, with new features that allow dental practices to improve the efficiency and effectiveness of patient interaction. With the latest release, your front office can communicate with patients better than ever by conducting two-way chat sessions via SMS text messaging.
When a patient replies to a text message appointment reminder with something other than the "1" to confirm, such as "I'll be there" or "I'm running late," the front office receives a toast message alert (popup) on the desktop. Your team can click the message to read and then respond in a chat window.
Patients who respond to a text message appointment reminder are essentially demonstrating an aptitude—maybe even a preference—for this mode of communication. Your practice's ability to respond using the same medium shows a commitment to customer service and technology, which ultimately improves your image while building patient loyalty.
Because your front-office team is able to conduct chat sessions quickly and conveniently from their workstations, they're able to communicate in a manner that might not otherwise be practical. Plus, chat sessions are often less disruptive to current activities than a phone call.
Your front office doesn't need to wait for a text message response to correspond with patients via chat, either. Team members can initiate chat sessions from previous conversations stored in eCentral or by clicking a patient's mobile number (activated as a link) in eCentral Appointment Manager.
In an age where communication is key and competition is everywhere, your office needs small differentiators. Learn more about this new feature or get help setting it up by clicking "What's New for eCentral 3.1" in the eCentral Help Menu or by calling 800.734.5561.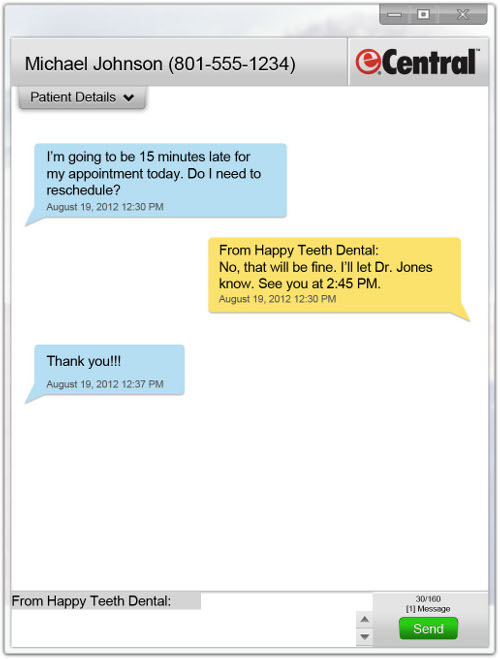 Figure 1. Dentrix eCentral now allows front office teams to conduct two-way SMS chat sessions with patients.
Author:
Damon Graves
Published:
07/25/2012