Simplify Updates with the Dentrix Update Manager
Dentrix G5 Productivity Pack 1 includes the new Dentrix Update Manager. The Dentrix Update Manager takes the guesswork out of deciding how important an update is, when you should install it, and whether it applies to your practice. It also helps you keep your Dentrix software up to date by notifying you when new updates are available and how critical they are.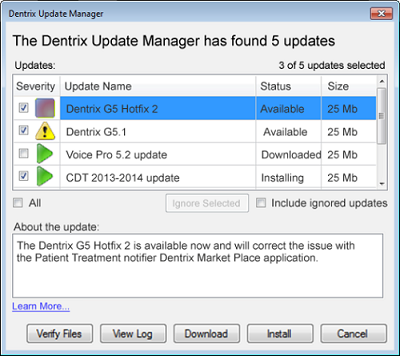 Once Productivity Pack 1 is installed, when you open a Dentrix module and updates are available, the Update Manager will appear and list all the available updates. At a glance, you can see the name, size, and status of the updates, along with descriptions, links to learn more about the updates, and a color-coded update severity level. Critical updates that must be installed concerning the integrity of your software will have a red severity, while important updates that contain new features and bug fixes that should be installed but can be delayed will have a yellow severity. Optional updates that may not apply to all practices will have a green severity.
Because some updates will not apply to your office (like an update to an add-on product that you may not use), you can choose to ignore those updates by selecting them and clicking the Ignore Selected button. Unless you choose to include these updates in the list, the updates are removed from the list so you can clearly see the new updates you need to review.
The Dentrix Update Manager makes it easier than ever to keep your Dentrix up to date and to keep track of your updates. If you have not yet installed Dentrix G5 Productivity Pack 1, install it today. Visit www.dentrix.com/g5 for more information about Dentrix G5 Productivity Pack 1, installation help, and system requirements.
Author:
Erin Brisk
Published:
04/30/2013