Dentrix G5 Connected Solution Spotlight

I'm a Dentrix dentist. In fact, my staff and I were among the early beta testers and have valued the program ever since. We originally chose Dentrix because we believed in the software and thought it would make us more efficient in our daily routine, helping us tend to patients more quickly and keep better track of their dental needs. It has exceeded our expectations.
I also implemented DEXIS Platinum a few years ago and have since moved to the newest generation of DEXIS software, DEXIS Imaging Suite. So now I have great image quality, a comfortable sensor, user-friendly imaging software and DEXcosmetic, the new, easy-to-use cosmetic module—and it all integrates with my Dentrix software.
We're enjoying the many benefits of DEXIS, but what really wowed us from the beginning is its full integration with Dentrix. We had challenges in the past with another digital system that did not integrate with Dentrix. I spent a lot of time and money on tech guys making and maintaining bridges that ultimately were more trouble than they were worth. My team and I were frustrated, but not anymore.
Here's the real beauty of DEXIS Imaging Suite's seamless integration with Dentrix. Typically, when I treat a patient, I have his or her chart open in Dentrix. I can see the patient's X-rays and camera images at the bottom of the chart, and I have the ability to see and work with all these images with one click of a button.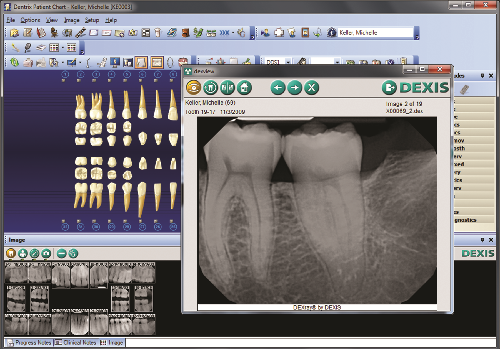 I can click on an image thumbnail to open an image in the Dentrix Patient Chart; then, enhance X-rays, apply ClearVu or scroll through visible images.
Full integration is a real time saver. I can immediately acquire a new camera image or select an image already in the patient's Dentrix chart and open DEXIS. There—for example, in DEXcosmetic—I can then go ahead and change the smile very rapidly.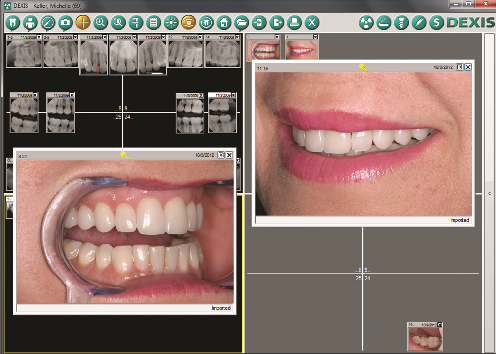 I can open DEXIS with one click to use all the DEXIS imaging tools and modules.
Whether using our clear Platinum X-ray images or before-and-after cosmetic camera images, I have the ability to better communicate with my patients. It's another tool that shows patients I'm doing the very best for them.
DEXIS images are at my team's fingertips and available for use in seconds, and my team values that convenience. They can go about their day without having to wait for images to appear. And my administrative staff now has an easy way to send images with insurance claims. They are very happy that they don't have to go through 15 steps to get the chart and images bridged together, only to have two different screens open when they prepare the claim. It's all right there in the Dentrix Patient Chart—and that's a beautiful thing.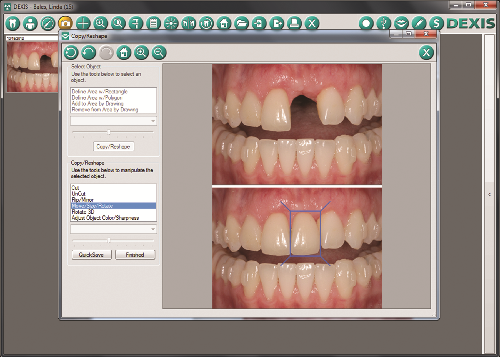 With the new DEXcosmetic module, I can take an image from the Dentrix Patient Chart and rapidly show the patient a variety of cosmetic options.
To all those Dentrix dentists out there who are still using film or struggling with an inefficient digital system, I'd highly recommend DEXIS. To learn more about DEXIS Imaging Suite and its integration with Dentrix G5, visit the Dentrix MarketPlace.
Dr. Gerald Bittner, Jr., maintains a private practice in San Jose, CA, that offers a wide range of comprehensive dentistry and spa services, with an emphasis on leading-edge cosmetic and restorative dentistry. He is a clinical instructor with Rosenthal Group, where he teaches other dentists the art of cosmetic dentistry. Dr. Bittner lectures extensively nationwide, sharing his experience and expertise.
Author:
Gerald Bittner, Jr., DDS
Published:
05/31/2013