Dentrix Connected Partner Spotlight: Updox
Dial-up tones, high-pitched beep, trill, tweedle-deedle, buzz, pulsating beep...
The sound of a fax machine is unmistakable. If you have one in your dental office, your patients can probably hear it. To them, it sounds like the 1980s are calling. They may wonder why their dentist is using such a technical dinosaur.
Even though it sounds dated, dental practices depend on faxes. After all, faxing is a secure and legally vetted way to transmit documents to partners, patients, pharmacies and insurance providers. And many businesses—real estate, financial, legal, insurance, healthcare and other highly regulated industries—still rely on this decades-old technology.
That behind-the-times vibe isn't the only downside to fax machines:
Low-end fax machines from large retail outlet stores are designed to be disposable (replaced, not repaired).
Repairing certain parts in a fax machine can actually cost more than the machine did.
In some models, toner costs can be as high as seven cents per page.
High-end fax machines (from $600 to $2,000) may last only five to seven years.
According to Updox, a Dentrix Connected Partner, the average dental practice spends up to $162 every month on faxing. That number doesn't include the labor costs of loading paper, dialing, monitoring, sorting and scanning the faxes. For every 5,000 fax pages, practices spend $72 on toner, $50 per case of paper and $40 for each fax line.
Paperless Faxing and Care Coordination
Now there's a certified Dentrix Connected solution that allows you to ditch your noisy, costly, old-timey fax machine. Updox for Dentrix helps you manage faxes—and all of your patient communications—in one web-based inbox.
"We help unify all communication into one centralized inbox so you can manage it all from one place," says Updox CEO Michael Morgan. "We eliminate paper faxes, unsecure emails and unsecure patient communications."
Because it's fully integrated with Dentrix G6, you can easily access the Updox for Dentrix care coordination suite from within your Dentrix system. And, because it's web-based, you can access it remotely from your mobile phone.
The Updox universal inbox helps your practice:
Lower office costs with Integrated Electronic Fax that reduces the need for paper, toner, phone lines and fax machines.
Expand your referral networks and securely exchange personal health information with other providers using a HIPAA-compliant email channel.
Improve patient engagement with an easily implemented Patient Portal.
Maintain a full schedule with customized Appointment Reminders via phone, text message or email.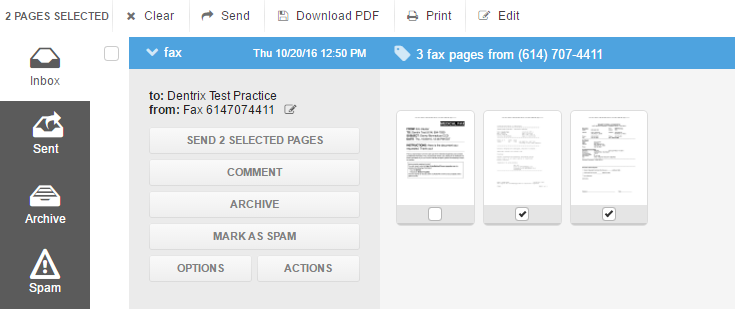 With Updox, faxes arrive in your inbox as PDF files. You can automatically sort many of your incoming faxes to specified inboxes. For example, lab reports go to one inbox, referrals to another, prescription requests to yet another.
All faxes are electronic, so nothing needs to be printed or scanned. You can easily edit faxes, route them for reviews and signatures, then file them in the appropriate Dentrix patient chart—without leaving your desk.
A solo practice in Bozeman, MT, enjoys using Updox for faxing:
"Updox offers very user-friendly, web-based faxing. I can manage all the faxes online. I can rename documents and tag them. Other systems don't allow the kind of flexibility and features that Updox does. Some software ends up wasting your time. Updox actually saves me time. It's faster and easier to manage than other solutions used in my office."
Benefits to Dentrix Dentists
The Updox universal inbox brings together your faxes, emails and patient portal messages in one location. From your inbox you can set up workflows and routing for referrals, forms, patient messages and lab reports.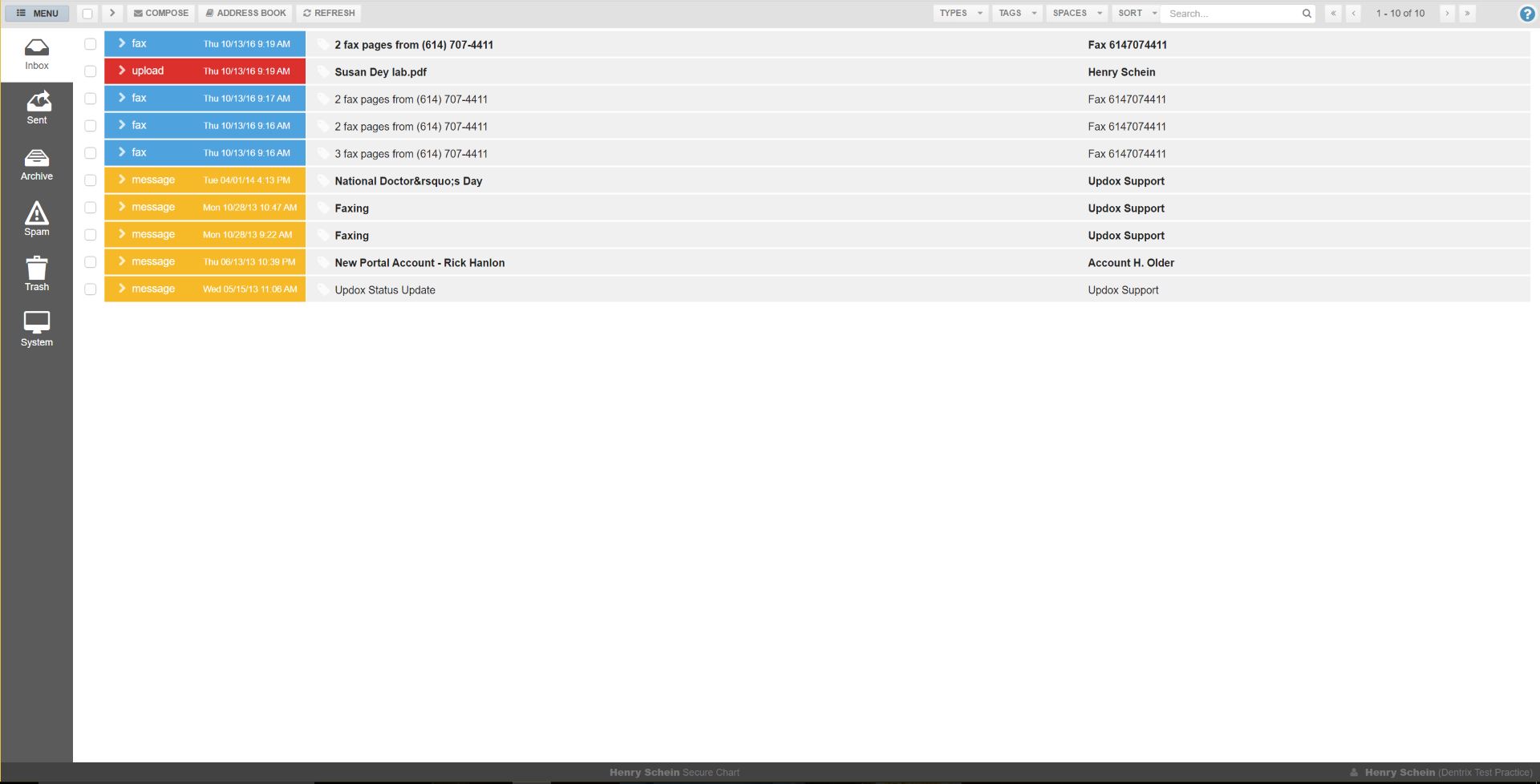 "Updox for Dentrix saves your practice hours of time on the phone, calling patients about upcoming appointments or answering their questions. There's no more standing around a fax machine waiting for a busy signal to end," Morgan explains. "You can send lab reports and healthcare information directly to your patients and other providers without risk."
The company's secure messaging services meet HIPAA and HITECH requirements and industry standards. Updox has achieved these security certifications and accreditations:
2014 Edition 2 ONC-HIT Modular Certification from Drummond Group, LLC
Direct Trusted Agent Accreditation Program (DTAAP) as a Health Information Service Provider/Registration Authority/Certificate Authority (HISP/RA/CA) from DirectTrust.org
Accreditation from Electronic Healthcare Network Accreditation Commission (EHNAC)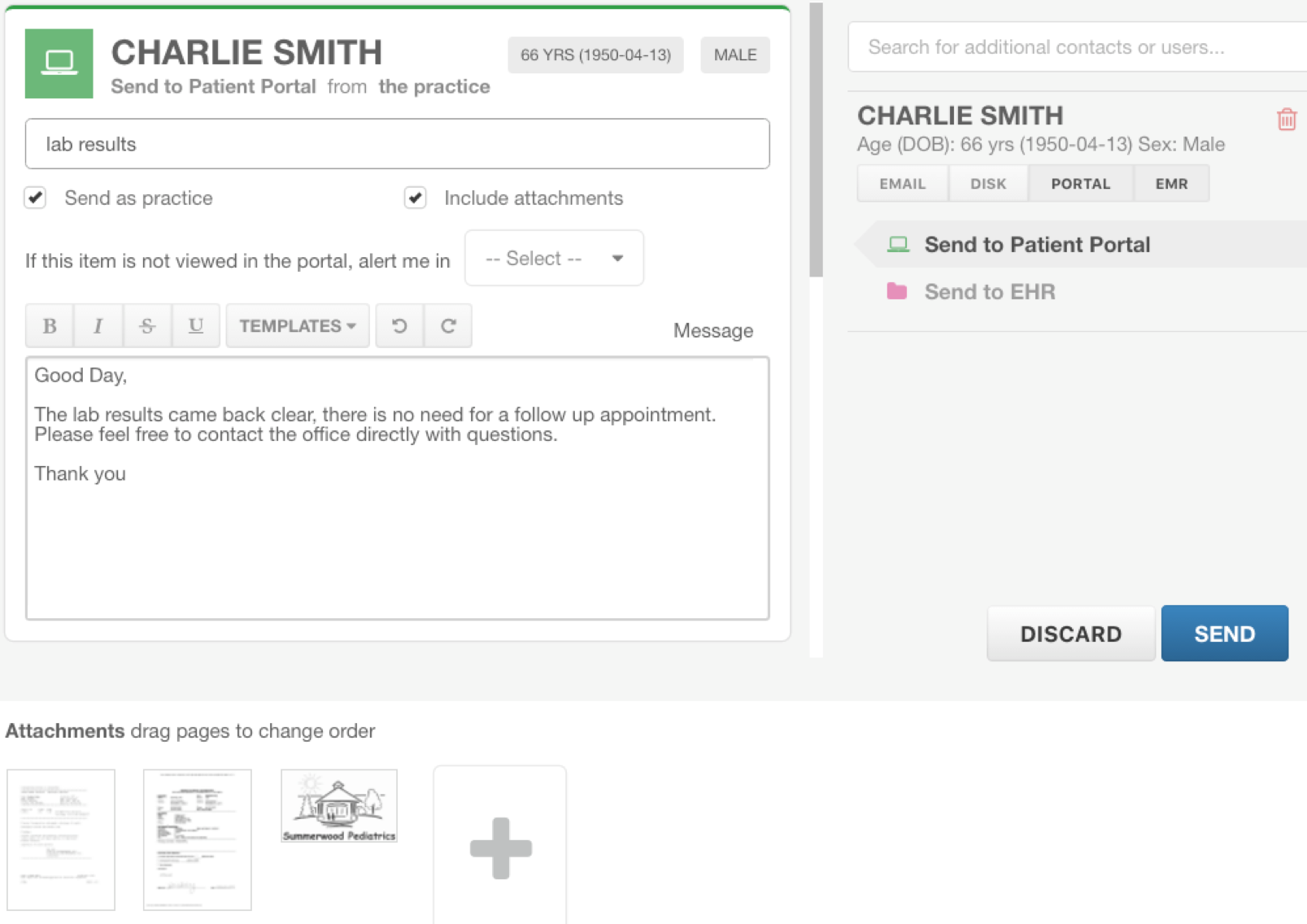 A practice in Arlington, TX, has several thousand patients using their Updox portal:
"Because the portal is so intuitive, people use it very easily. They really appreciate that they can see copies of their labs, and I can attach notes or comments. It's a great way to engage patients as partners in their care."
Updox is integrated with 70 different electronic health records (EHR) systems—including Dentrix and Dentrix Enterprise from Henry Schein Practice Solutions—and serves more than 250,000 healthcare professionals and 46 million patients.
"You can safely coordinate care with another provider or someone outside your practice, keep a record of all communication and file it with the patient's chart," Morgan says. "Other solutions do fax and secure messaging, but Updox brings it all together in one inbox."
Your practice can start using Updox for Dentrix the same day you register online. You can try the product for 15 days free.
"Updox for Dentrix really helps your practice go completely paperless. It aggregates all communications into one place and gives you access to it outside the office, after hours. You can have confidence that messages and faxes are HIPAA compliant, and you can make all communication about a patient part of their Dentrix chart with just one click," Morgan says.
Author:
Published:
02/28/2017