Dentrix Connected: Strengthening Practices and Improving Patient Care with Dental Sleep Medicine
Increase the revenue of your practice while drastically impacting the overall health of your patients. Did you know that a consistent lack of quality sleep can have devastating effects on your patient's health? From bruxism to sleep apnea, people from all walks of life experience ongoing sleep problems. imagn and Dentrix have created an integrated solution that will enable you to easily implement dental sleep medicine into your practice by removing the obstacles you may face while navigating the medical field. You can be the hero! Solve your patient's sleep problems while your dental practice flourishes.
Why we need to focus on sleep
We all know our country is in the middle of a health crisis and chronic illnesses are at epidemic levels. Your patients may be affected by poor health that impacts their relationships, finances, work, daily decisions, and much more. Why is health spiraling downward while we have such an advanced health care system?
Health is a complicated process but I think we can all agree that good sleep is the foundation. A good night's sleep can change everything. And you as a dentist can help your patients improve the quality of their sleep. Good sleep combined with diet and exercise can help any of us make huge strides to improve overall health.
Dentists can make a huge impact on our population's health because of the number of patients they see in their practices. By adding dental sleep medicine, dentists can directly affect health as much as any other health provider.
Appliance therapy for the night and day supports the growth and state of the oral cavity and therefore the airway, as well as the function of the surrounding structures. Fifty percent of the signs and symptoms of sleep disorders express themselves in the mouth. Dentists must understand airway health, how to prevent pain, and reinforce proper habits to promote healthy lifestyles. Then the health of their patients will improve on a daily basis. Dentists who provide conservative, preventative, and effective solutions to improve sleep can help their patients decrease the amount of medication taken and surgery needed. Now is the time to learn about how dentistry can prevent decades of health issues from piling up due to poor sleep!
Your Dental Practice and Medicine: Keys to successful implementation
Welcome to medicine. It is not hard but it is different. Learn from our experience and how these key components are needed to improve practices, patient care, and keep the dental staff excited about this next wave of dentistry.
imagn® works in tandem with Dentrix® to provide a seamless solution to simplify implementing dental sleep medicine into your normal patient care tasks. Medical charting and the medical billing process require another layer of software to keep everything easily accessible. Dentrix and other practice management software, does not include the needed features to management sleep medicine effectively. The imagn sleep module provides screening questions, creates medical notes, coordinates sleep testing and referral information, and bills medical insurance. imagn sleep also guides the staff and doctor through the process and identifies what comes next for each patient.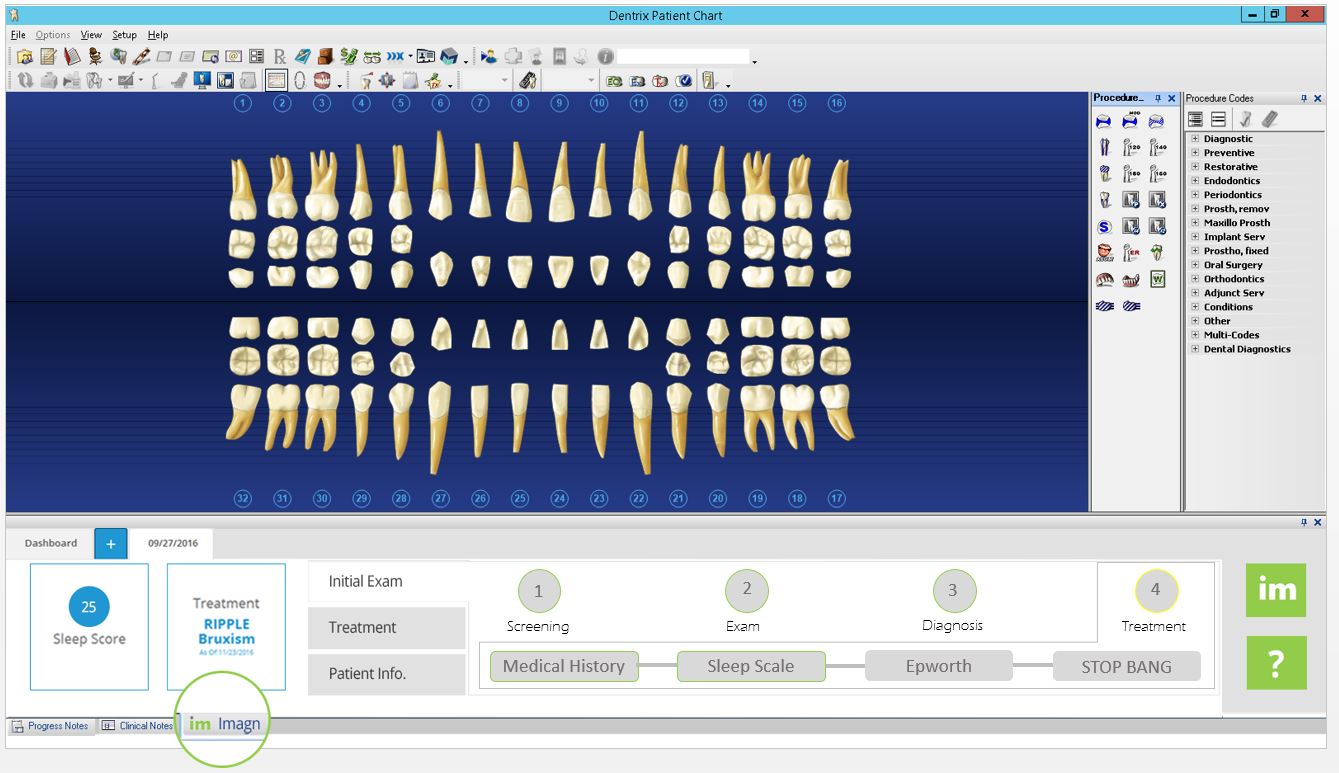 The imagn sleep module is inside of Dentrix and accessed from the patient's chart. The imagn sleep tab is by the clinical notes or other integration tabs at the bottom of the patient chart. The imagn sleep panel will open up to inform the current status of the process as well as give you the tools to complete the necessary steps. From electronic tablet data collection, to electronic signature capture, to encrypted email communication, imagn has created the digital tools at your fingertips without leaving Dentrix so you can focus on what you do best, comprehensive dental care!
The first step starts in hygiene. This is just what the hygienists want to hear, right? Just one more thing for them to cram into their already hectic appointment. However, together, Dentrix and imagn have streamlined the process of screening and it truly only adds a minute or two. Again, the hygienists never need to leave the patient chart! Using imagn's proprietary sleep screening, you can quickly and easily identify the patient's likelihood of having a sleep disorder.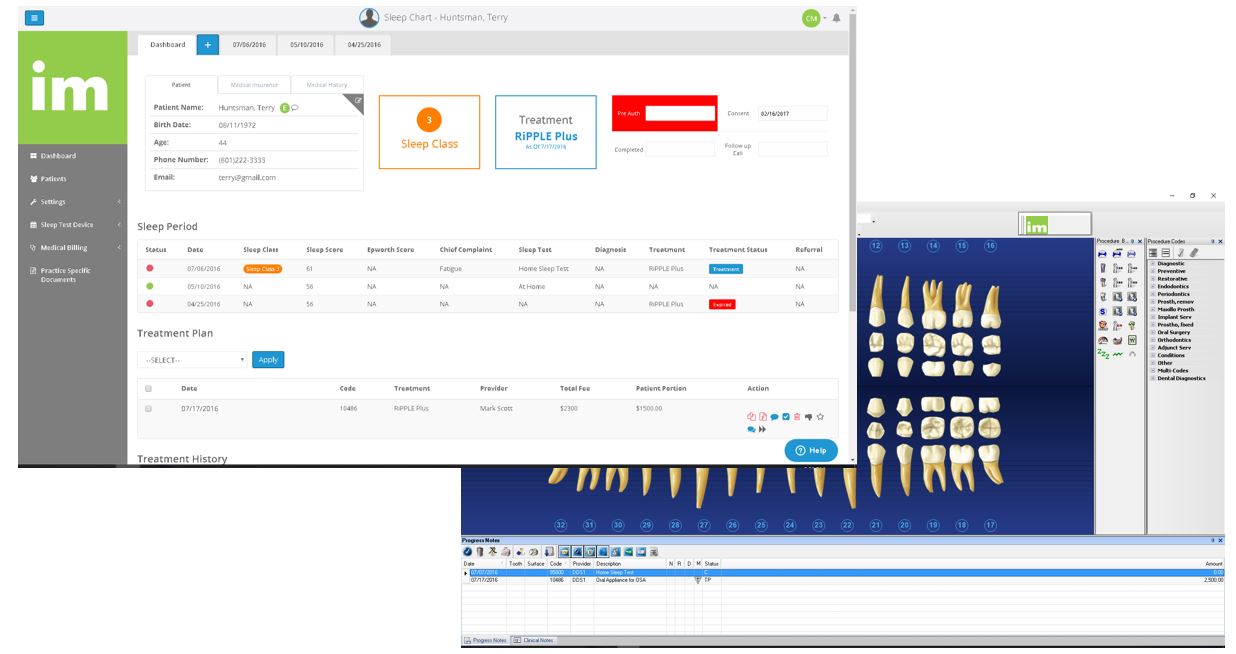 This screening process includes an automated intra and extra oral exam and compiles a clinical chart note that is accepted by medical insurance. Best of all you did not have to write the additional note for insurance.
The only way for a patient to get diagnosed for sleep apnea is to have an overnight test and be diagnosed by a board-certified sleep specialist. Dentists cannot diagnose sleep apnea. Rules and regulations on sleep testing are state specific, but in all states a dentist can identify the patient and recommend sleep testing. In our experience, the most successful offices own home sleep apnea testing devices and send their patient's home with a comfortable, easy-to-use device that they wear in their own bed. There are also multiple options that include mail order, home delivery, and local sleep labs for other solutions for testing. You can also refer a patient to a local sleep specialist. imagn streamlines the process by coordinating the testing, integrating with the sleep device company to automate the display of the results, and sending the diagnosis and prescription to the medical insurance. Our software can input the sleep test information directly into imagn without an increase to your staff's workload.
The imagn software also includes an integrated medical billing platform which takes out the biggest stumbling block that offices face with medical billing. You can do it yourself, or use the one-click medical billing process, leaving all the worry to a third party partner. All data exchange is electronic and does not require a fax, email, or even phone calls. The medical billing display gives you a current status of pre-authorizations and claims.
imagn has advantages over other insurance billers because imagn can handle attachments and uses the efficiency in the software therefore saving time and money. imagn medical billing platform can bill medical insurance for any procedure, not just for dental sleep medicine. Dental offices perform many other procedures that could and should be billed to medical insurance. Use imagn's medical billing platform with Dentrix to increase revenue and maximize your practice's potential.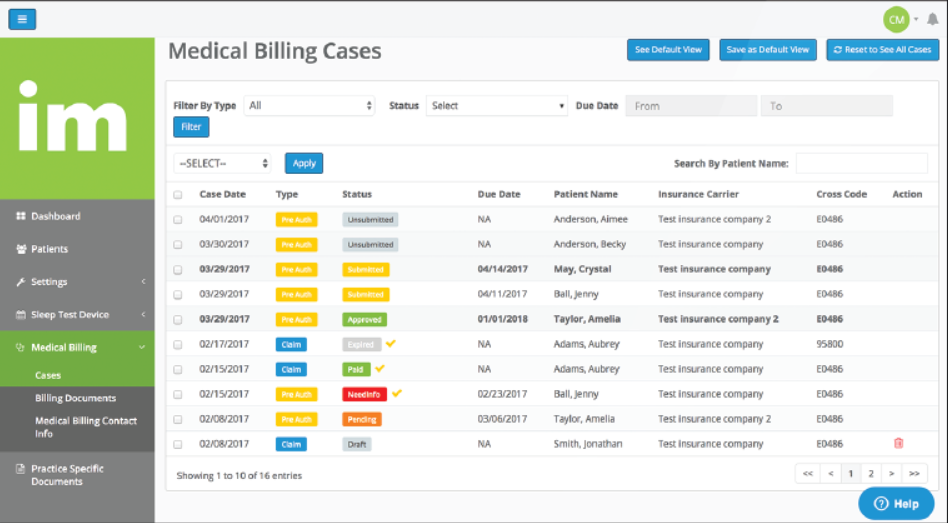 When you are ready to refer a patient to a local provider for a sleep study, the referral wizard will generate faxes, secure emails, or print documents in seconds. Each can be customized as needed. The wizard saves time and provides your team referral documentation at their fingertips and the software handles the increased communication that is needed to collaborate with medical partners. imagn and Dentrix removes the hassle of the communication that needs to be done between providers, insurances, and patients.
Your team is already asked to do a lot. To be successful with dental sleep medicine you need software that is effective and efficient. You need the information on demand. You need to be able to evaluate how the practice is doing as well as what's next for your patients and how is their health trending.
Dentrix's Connected platform working with imagn sleep software will automate the process as much as possible and enable you and your staff to tap into the next wave of dentistry without being saddled with a lot of extra work.
The future for a thriving dental practice includes being a part of a patient's overall health plan and that starts with improving their sleep. Helping your patients improve their sleep will improve their oral health as well as their overall health. Dental sleep medicine will strength your practice and your revenue. imagn and Dentrix can help you manage the process without adding to your or your staff's workload. Quality sleep gives all of this the best chance to happen. Sleep changes everything.®
For more information on this Dentrix Connected sleep program, please call iMagn at 855-534-1433
Author:
Published:
06/22/2017