Top Must-Haves for a Successful Practice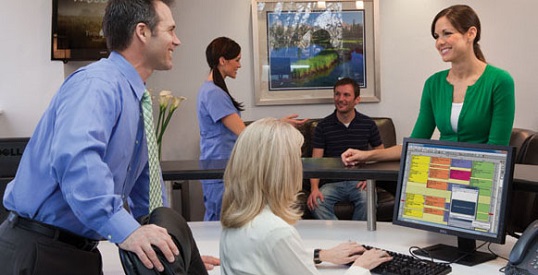 Dentrix has proven and foolproof strategies built right into the software that help practices maintain productive and efficient systems. Used to its full potential, your dental software is the "oil" that will keep your practice running efficiently forever.
If set up properly, a few main systems can help you identify trends, maintain productivity and assess challenges. Monitored correctly, management systems combined with effective training and coaching can help you maintain stability with less stress. In this article, we identify which systems to monitor in the practice and how to do this in Dentrix.
Production
You can't put in the bank that which is not produced. You need to set goals, but in order to do that, first identify your overhead. It is crucial to identify the bottom line you need to produce to maintain low overhead. Set production goals for the total practice, as well as individual production goals for each provider. Typically, if the practice includes hygiene, your hygiene production goal should be approximately 25–30% of the total production goals.
Also, keep a watchful eye on specific types of production in the practice. For example, monitor units of production for crown and bridge, periodontal scaling and root planing, root canals, X-rays, new patients, etc. Closely monitor the practice's unfilled hours and separate them by provider. At $150 per hour for hygiene production, just one opening per hygienist per week over a 210-day year can cause a practice to lose over $30,000 in one year!
As Peter Drucker states, "You get what you measure." For help on measuring your practice's key performance indicators, click here for more information on how to set up your practice goals in the Dentrix Practice Advisor. The Practice Advisor will show you how much the practice produced, as well as a breakdown for what percent of the total production was produced by each doctor(s) and hygienist(s).
The Dentrix Production Summary Report will show how many of each procedure has been completed, how much revenue was generated by that specific procedure code during the specified time period, average production and what percentage of total production for that time period was generated by that specific procedure code. To run this report, go to Office Manager > Analysis > Practice > Reports. Under Summary Reports, make sure Production Summary is checked, but remove the check from "By Category."
The Dentrix Production Summary Report will show how many of each procedure has been completed, how much revenue was generated by that specific procedure code during the specified time period, average production and what percentage of total production for that time period was generated by that specific procedure code. To run this report, go to Office Manager > Analysis > Practice > Reports. Under Summary Reports, make sure Production Summary is checked, but remove the check from "By Category."
Collection
Money in the bank pays the bills. Set a goal to collect at least 98% of total adjusted production (gross production minus adjustments). Keep in mind that 2% of patients will choose not to pay their bills. It is also important to have written financial systems in the practice. This helps you achieve consistent success in collections. Design collection systems that allow a patient to pay at or before the time of service—paid-for dentistry doesn't typically fail the appointment. Clearly identify patients with overdue balances so as they finalize their appointments, you can collect on previous balances along with the balance from the current day's appointment. Also, design a strategy to call on all overdue accounts.
It has been shown that once a balance ages beyond 90 days, you lose 7% of the value of that balance—every month. So by the time the balance ages 12 months, the practice has typically lost more than the balance is worth. Click here to learn more about sending statements electronically with Dentrix QuickBill.
The Dentrix Practice Advisor allows you to track your daily over-the-counter collections. On average, practices should collect at least 40% of their daily collections from over the counter, depending on their participation with insurance companies.
Insurance
Keep an eye on outstanding insurance claims. Dentrix allows you to automate these systems, including electronic claims, electronic claims attachments and electronic payments. You can also easily set up notifications to alert you when an insurance claim becomes past due. It is more important than ever to stay on top of outstanding claims because the insurance industry has implemented limits on how long a claim can age before it becomes too old to process. Typically, this is 90 days from the submission of the first claim. Generate reports often to track claim statuses.
It's a good idea to run the Insurance Aging Report on a monthly basis at the very least, but I recommend you review this report every week. To find the report, go to Office Manager > Reports > Ledger > Insurance Claims Aging Report. If you're using Dentrix eClaims, the claims tracking feature is a valuable tool to check the status of a claim.
Scheduling
This is the cornerstone of a productive and efficient practice. Put systems in place to predict consistent productivity. Set goals in Dentrix to track status of goals versus actual production. Divide up the appointment to clearly identify how many time units are needed for each section, such as anesthetic time, doctor time and assistant time. This can help you achieve two-column scheduling without duplication of efforts.
You can apply the same matrix scheduling strategy if the hygiene team is implementing "assisted" (not to be confused with "accelerated") hygiene. Do this by partnering an assistant with the hygienist to help perform some of the non-hygiene-related duties, such as health history update, charting, seating the patient, debriefing the patient, finalizing appointments, cleaning the room and resterilizing instruments. You can orchestrate all of this in the software system to find the most efficient scheduling practices.
Preblocking the schedule for the "ideal day" is also a huge benefit to building consistent productivity. Preblock new-patient times because you never want a patient to wait longer than seven to 10 days for an appointment. Determine where the schedule is ideal to see new patients. Preblock emergency times (for general dentists). Typically, I recommend preblocking mid-morning and the first appointment after lunch for not longer than 30 minutes to treat emergencies (meaning, get the patient out of pain and reschedule for final restoration). Preblock the ideal time of day to offer longer appointments or major production. Also, preblock scaling and root planing and perio maintenance. If your practice has never done this before, you can generate a production-by-procedures report for a previous 12-month period to determine how many procedures were performed the year before.
Dentrix can help with perfect daily scheduling. To learn more, click here.
Treatment Planning
Once a patient has had existing restorations and present condition documented, the dentist is ready to recommend the treatments that are in the patient's best interest. A customized, user-friendly treatment plan and an intraoral camera are very helpful tools to assist the patient in making informed decisions. Dentrix has one of the most user-friendly and customizable options in treatment planning the patient.
It is crucial for the patient to understand and accept the diagnoses that have been explained. It is also very important for the patient to understand the necessary steps to maintain a healthy smile. Presenting the patient with a treatment plan in writing is very important. The patient needs a document to take home to partners/spouses/family members so they know what they are accepting in dental care. Clear written guidelines presented in layman's terms help the patient make informed decisions.
The Dentrix Practice Advisor shows how much treatment was presented versus accepted, so this is a great way to track case acceptance. Learn how to set up treatment planning in the Dentrix Presenter here.
Awareness of trends
It has been proven that a statistic that goes in a specific direction three months in a row is a trend. The accounts receivables ratio is one to watch. This statistic clearly identifies when a practice is trending in a specific direction. As an example, if collections increase three months in a row, it is typically due to improved communication skills in asking for payment at the time of service and more successful collection of overdue monies. If you see a decrease in outstanding insurance claims three months in a row, that shows the responsible person in the office is keeping a watchful eye on outstanding claims and offering due diligence to resolve any claims issues.
Typically, when the percentage of open time decreases, it is due to maintaining and monitoring a priority or ASAP list of patients who have appointments but are willing to come in sooner—a great back-up plan to keep the schedule full. This could also be due to clear identification of patients who typically keep their appointments, are reliable and don't cancel or fail appointments often.
To review the AR to Production Ratio, open the Practice Advisor and go to Collections > AR To Production.
The Dentrix Collections Manager is another valuable tool. To use the Collections Manager, go to Office Manager > Analysis > Collections Manager.
Morning huddle
Every day, have a morning meeting for 10 minutes prior to opening. The morning huddle helps you triage the day and identify potential hiccups. When issues are identified at the beginning of the day, you can create a plan to deal with them and therefore create a less stressful and more productive environment. Discuss briefly the results from the previous day, such as running behind schedule, new patients, problem patients and/or procedures, scheduling snafus, celebrations and consults. Then, address the current day, including changes in the schedule, patients overdue for hygiene and treatments that are diagnosed but not yet scheduled. Also, address goals in relation to actual production and collections to date. Is the practice on track to make goal this month? One team member should handle a section of each part of the huddle so everyone has an opportunity to participate.
For more details on how to have an effective daily huddle, read this valuable article.
Along with using Dentrix to its fullest potential, these best practices will keep the engine of your office running smoothly and ensure your success.
Be sure to attend the upcoming webinar, "The Power of the Daily Huddle: Your Practice's Secret Weapon to Success," on June 18, 2013, at 11 am MT with Lois Banta, CEO and Founder of Banta Consulting and Tammy McHood, Henry Schein Practice Solutions Senior Product Manager. To register, click here.
Authors: Lois Banta, Banta Consulting and Tammy McHood Henry Schein Practice Solutions Senior Product Manager
Author:
Published:
05/31/2013