Help New Hires Get Off the Ground Faster

Have you ever dealt with staff turnover in your office? Of course you have. Staff turnover is one of the most common problems in dental offices, and it reduces efficiency and decreases production because you can't cancel appointments and shut the office down while you hire and train new team members.
So what can you do to accelerate your new-hire training and get new team members up to speed quickly? And how do you ensure they have the Dentrix knowledge and skills they need to succeed? Dentrix Essentials online learning is the answer. It's your new-hire Dentrix training program.
You have new team members. We have their Dentrix training.
Dentrix Essentials is the newest level of the Dentrix Mastery Tracks program. It's designed to help your new team members learn to use key features in Dentrix and then check their understanding. Since the courses are online and on-demand, your team members can study whenever it's convenient for them (and for you), and they'll be able to start working sooner because they don't have to wait for another team member to have free time to train them.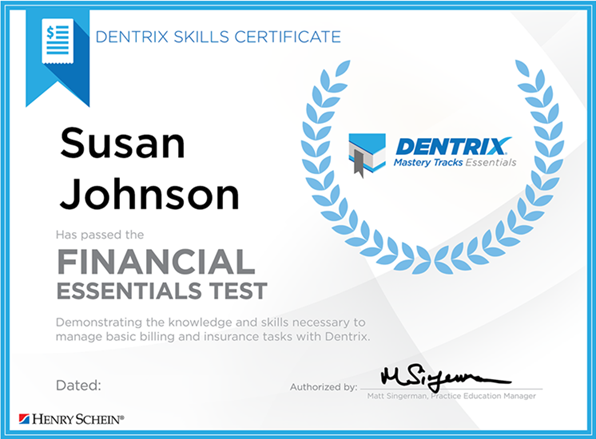 Take a course. Take a test. Earn a certificate.
The process is simple. Your team members take a course and then take the test that goes along with the course. When they pass the test, they earn a certificate.
There are four Dentrix Essentials courses: Clinical Essentials, Financial Essentials, Patient Information Essentials and Scheduling Essentials. Each course gives learners the information they need to perform essential tasks in Dentrix, focusing on core activities that happen within key job functions in the office. Your team members can focus their study on just the skills and knowledge they need for their jobs, which means they can be ready to go to work faster.
Don't worry! It won't take too much time.
We know your office is busy and new team members may need to spend time learning other office processes while they study Dentrix. We have designed Dentrix Essentials with flexibility in mind so you can fit it into your practice's time instead of adjusting your schedule to fit the training.
New team members don't have to go through an entire course or lesson at once. Each lesson has 10 to 15 short topics that take just three to five minutes to complete. Plus, team members can mark off what they have completed as they study. That means they can study a few topics at a time when they can fit in a little training with the other things they are doing in the office. Then, when they return to the training, they'll know exactly where they left off.
Put your wallet away! There's no additional cost to you.
All four Dentrix Essentials courses and the corresponding tests are included in your Dentrix Customer Service Plan. You can rely on Dentrix Essentials as your go-to Dentrix resource for training new hires and cross-training existing team members. Since there's no additional cost to you, there's no reason not to have every member of your team take courses and tests.
Get started today!
Log in to the Dentrix Resource Center at www.Dentrix.com/Resource-Center.
In the Get Your Training section, click Enter.
Click Register to create your learner account, or log in if you already have one. You will be required to create a personal username and password so you can track your learning progress.
Under Learn the Essentials, click Courses and select the course you want to take, then click the lesson you want to start with.
And if you need more information about the program, visit www.Dentrix.com/Mastery.
Author:
Erin Brisk, Supervisor, Technical Training and Course Development
Published:
02/13/2018