Dentrix Connected Partner Spotlight: ScanWriter

Today's dental accounting process is broken and it's hurting your business. If you're like most dental practices today, then you're probably processing your practice revenue and expenses separately. Incoming transactions, like Daily Activities and EOBs, are recorded in your Dentrix system, while your office's outgoing activities, like expenses and bank statements, are recorded in your accounting system.
But the problem is that the data from Dentrix and the data from your accounting system never actually connect, leaving your dental practice's full monthly financials UNRECONCILED! And unreconciled financials mean costly mistakes, misguided financial reports, weak internal control and the risk of fraud.
The Solution
ScanWriter Dentrix Edition is the first software to bridge that gap between dental practice management and accounting software creating a "Big Picture" financial perspective for your dental practice. As the only Dentrix Connected accounting solution, the software seamlessly integrates Dentrix data into QuickBooks, and other accounting softwares, consolidating all services and expenses under one roof - automatically. ScanWriter provides real time monitoring of financial health and key performance indicators for dental professionals. Convert Patient Lists, Day Sheets, Bank Statements, Invoices and more into QuickBooks in seconds! Eliminate manual data entry and save more time when you automate and consolidate the accounting process for your dental practice.
Seamlessly integrates with Dentrix G6, QuickBooks, QuickBooks Online, and more
Automatically transfers Dentrix data into your accounting software
Instantly enters hundreds of paper or PDF financial documents into accounting software
Precisely recognizes characters and detects mistakes to ensure accuracy and eliminate errors
Prepares clean, customized reports for easy data analyzation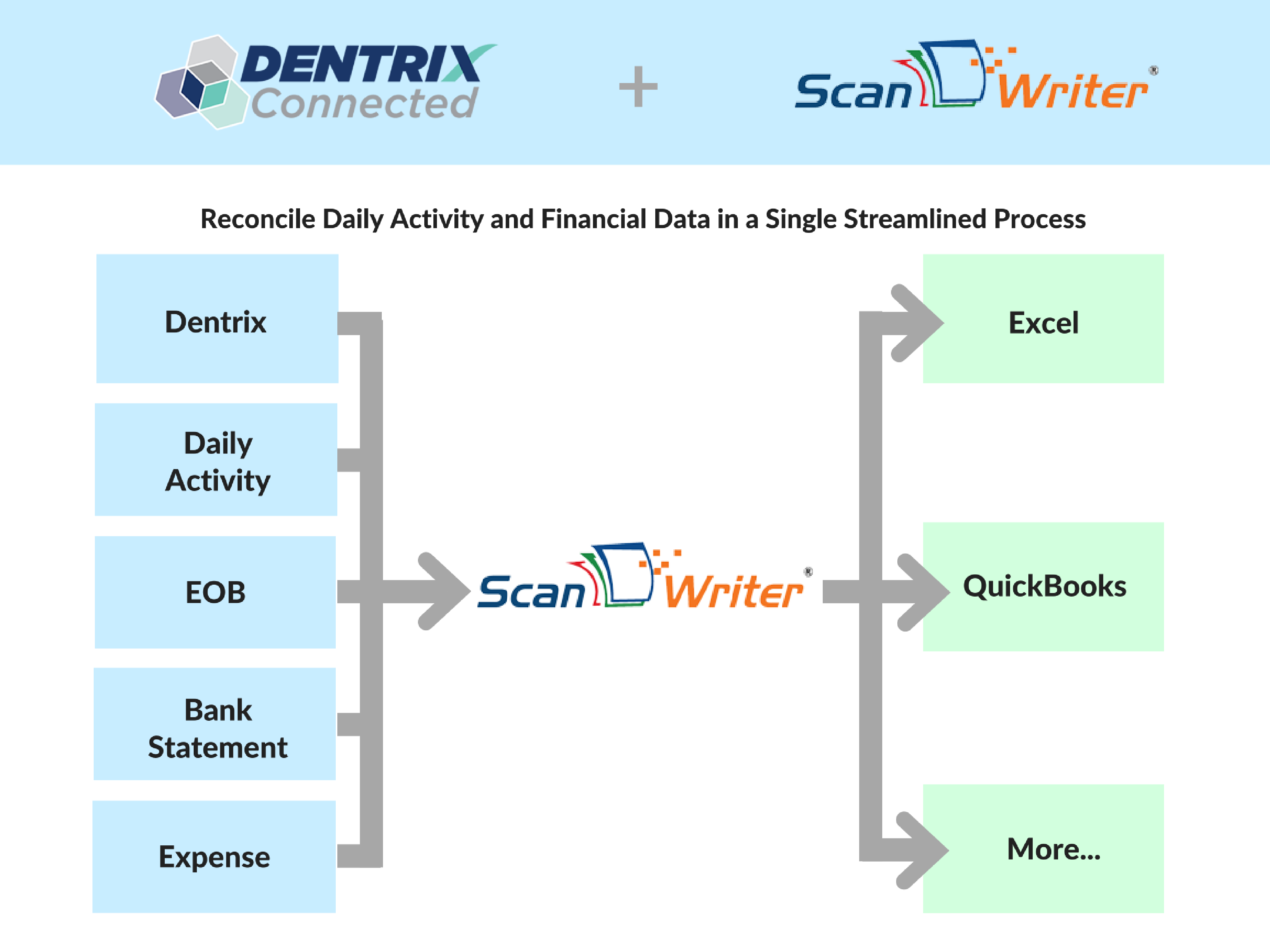 How it Works
ScanWriter Dentrix Edition is a fast, easy to use software that automatically communicates with both your Dentrix software and accounting system. All you have to do is launch the application on your desktop and follow the three simple steps displayed in your ScanWriter window:
Select QB Company: Choose the QuickBooks company file you would like to work in. This is the file where your Dentrix data will be imported.
Reader Management: Choose a Reader. A Reader is what tells ScanWriter what type of data you would like to collect and how to organize that data. ScanWriter hosts over 10 readers in its library that include reports from Dentrix like Patient Lists and Day Sheets, and other documents, such as insurance forms, bills and bank statements.
Data Import: Choose the data you would like to import from Dentrix. ScanWriter helps you select this data by selecting a report type and entering a date range. Record your revenue daily, weekly, monthly or by patient.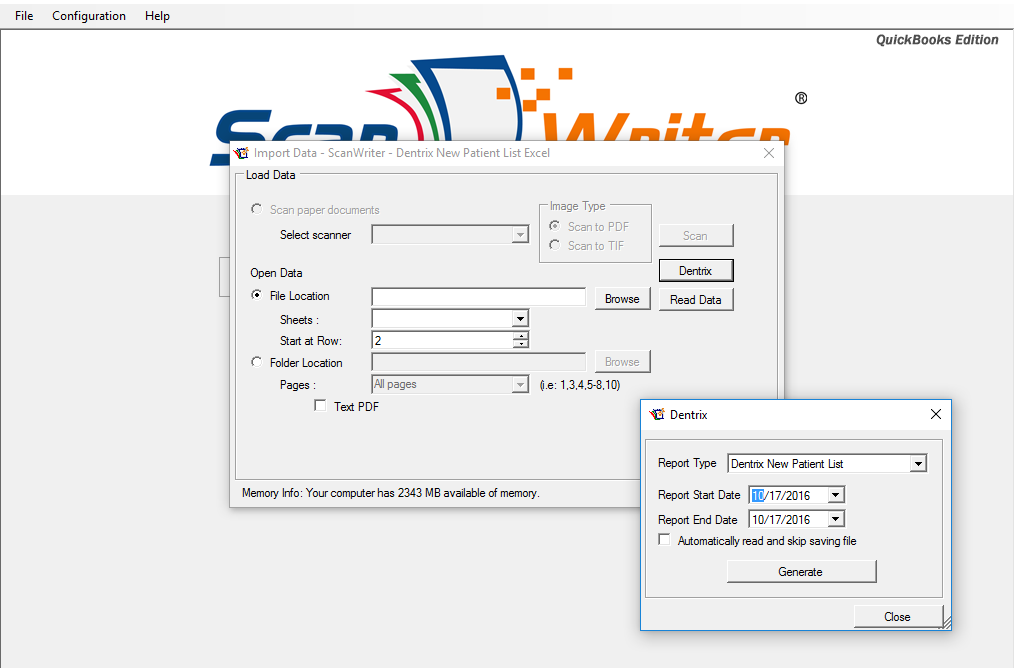 Once your data is selected, simply select "Import to QuickBooks." Within seconds, the data of your choice is entered into QuickBooks, automatically reconciling all transactions. Track reliable metrics so you can see real-time accrual based profit and loss, examine your most profitable services and gain the overall "Big Picture" of your dental practice in an instant.
ScanWriter makes it easy to reconcile all transactions under one roof. Save time and resources when you automate your accounting process from start to finish. Learn more in a FREE online ScanWriter demonstration or for more information, please contact Personable Inc. at 714-430-6944 or visit www.personable.com.
Author:
Published:
09/22/2017