Tips from the Insurance Billing & Collections Workshop
One of the Dentrix workshops offered this fall is the Insurance Billing & Collections workshop. This hands-on workshop will give you an in-depth understanding of the insurance billing process and teach you how to correctly bill insurance in order to increase claim acceptance and improve insurance collections. Here are some examples of the tips that are included in this workshop.
Entering Deductibles Met/Benefits Used
Typically, you will indicate when deductibles have been met when posting an insurance payment and Dentrix will automatically track benefits used and deductibles met for patients. However, you might have patients who come to your practice mid-year that have met part or all of their deductibles for the year or used part or all of their maximum benefits. You can enter deductibles met and benefits used for these patients before you create an insurance claim.
To enter deductibles met/benefits used, from the Family File, double-click the Insurance block, then click the Deductibles button. In the Edit Deductibles Met/ Benefits Used dialog box, enter the deductible and benefit information as needed.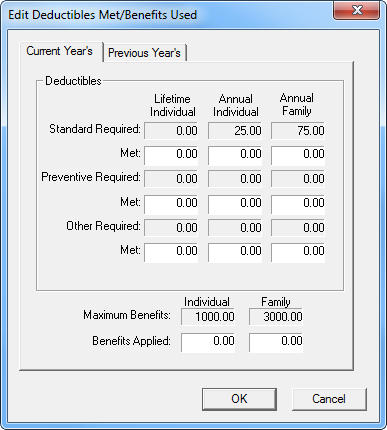 Specifying Default Claim Information
When a patient has a recurring issue that should be documented on all insurance claims (such as a permanent disability) or a persistent issue that will have to be listed on several insurance claims in a series (such as orthodontic treatment), you can set up claim information defaults to save those settings and include them on all future claims created for the patient. That way, you don't have to manually document the issue each time you create a claim for that patient.
To set up claim information defaults, from the Family File, double-click the Insurance block and click the Insurance Claim Information button. In the Insurance Claim Information dialog box, enter the appropriate information.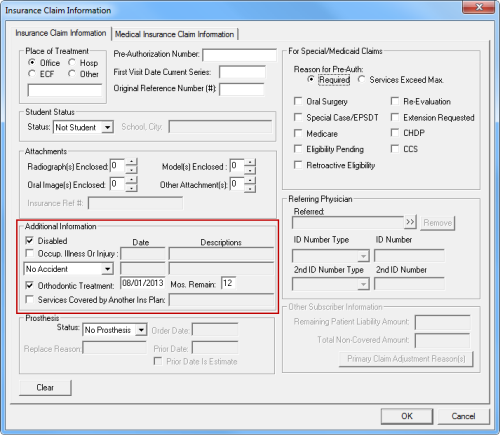 Creating Batch Insurance Claims
It's important to make sure you don't miss any procedures when creating insurance claims or forget to create claims for any patients. You can run the Batch Primary Insurance Claim utility at the end of the day to catch any claims that should have been created, but weren't. The utility allows you to create all primary insurance claims for procedures posted within a selected date range and for selected providers and billing types, so it will catch any procedures you may have missed.
To create batch primary insurance claims, in the Office Manager, click File > Batch Ins Claims. In the Create Batch Primary Dental Insurance Claims dialog box, select the date range, providers, and billing types you want to create claims for, and then click Print, Send to Batch, or Send Electronically.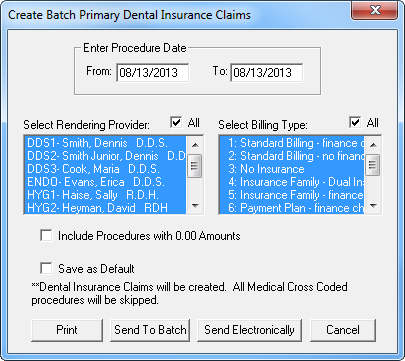 Get more tips like these that will help you take control of your insurance processes at the Insurance Billing & Collections Workshop. Classes start in early September. And if you want even more tips for managing your office finances, you can pair this course with the new Accounts Receivable Management workshop that is held the following day. For a detailed course outline and a list of dates and locations, visit http://www.dentrix.com/training/workshops/.
Author:
Erin Brisk
Published:
08/31/2013