Dentrix Connected Spotlight: Practice SafeGuard - Security as It Should Be
When Dr. Albright* of Florida discovered Practice SafeGuard™ at the 2012 Florida National Dental Conference, he was relieved to find a solution to the nagging concerns about workplace fraud he'd felt for years. He instantly signed on to become an early adopter. "I didn't know whether fraud was an issue in my office, but I had seen ledger mistakes costing us money over the years. I just had no way of discovering how much," Dr. Albright says. "We responded to one-off problems that were solvable after they occurred, but I needed patterns and data I could use to prevent errors from happening. After seeing the Practice SafeGuard preview, I was excited that one team could accomplish this."

Dr. Ball* of Ohio installed Practice SafeGuard with the goal of monitoring mistakes and running various transaction reports. "I found some serious discrepancies in our patient payments compared with bank deposits, but I had nowhere to turn to find out more. We were already running Dentrix G5, so Practice SafeGuard was a no-brainer for us. The insight we've gotten in just a few weeks is incredible."

Dr. Call* of Ohio was devastated to discover his losses were fairly extensive. "I installed [Practice SafeGuard] basically as a courtesy, because we're a stable, well-oiled machine, and I was interested in helping out as a control beta. I did not anticipate major issues with our data. When the reports started coming back, I was blown away to discover that I've lost over $40,000 since 2011."

Situation Analysis
According to an HSPS Fraud & Embezzlement Survey in 2012, an astonishing 72 percent of 2,000+ dentists are "reasonably certain they are currently victims of fraud." This overwhelming response indicates a serious and troubling gap that dentists must fill to protect their incomes. In 2011, the response to this survey also prompted our Practice SafeGuard team to get the application we'd dreamed of ready to share with customers. For years, the one huge problem that nobody could solve was how to respond instantly to potential issues. The technology just wasn't there; even tightly controlled practices would retroactively turn up losses in their audit trails.

This year we helped Dr. Albright install Practice SafeGuard to use with Dentrix G5. Practice SafeGuard showed us previously undiscovered losses on the first day. In less than two months with Practice SafeGuard, we've found $33,000 in losses since 2009.

Dr. Albright's practice is exactly like tens of thousands of others—they are not negligent or complacent, they just haven't had access to the right financial tools until now.

Behavior Red Flags You Haven't Considered
With no end of motivators to commit crimes, and myriad behaviors that indicate crime may be happening, it can feel daunting to look for negative behavior patterns on your team, particularly if you have long-term staff you love like family.

To be effective, you'll have to start by admitting that no one is above suspicion. Everyone's current situation in their lives should be questioned, and it should be understood that motives and opportunities to steal can change all the time. Changes in environmental pressure can make an opportunity to skim look too good to pass up. Here are some lesser-known behaviors to consider in evaluating your vulnerability to employee embezzlement. Any employee could be running schemes if:
They proactively "help out" with financially related tasks outside their job description.
They control or acquire end-to-end financial tasks like patient checkout and bank deposits.
They generate (and can filter) your daily financial reports.
You don't perform random patient chart audits weekly at minimum.
They haven't asked for a raise in a year or more.
If one or more of these apply, don't overreact, but schedule role reviews at once and start asking questions. Loyal staff members will appreciate your interest in their position, and you can take the opportunity to make sure these people stay happy in the right role.

How It Works
Practice SafeGuard works by applying well-known "rules" of financial fraud detection to your Dentrix G5 data to extract violations or deviances. It also scans your Dentrix G5 Ledger history for the past six months and aggregates deviations from your service fees to identify extreme and unusual transactions. The Practice SafeGuard software does not appear in the daily functions of the Dentrix G5 interface. This is critical to avoid alerting personnel that workflows are being evaluated. It simply notifies assigned users, as often as you specify, when a potential issue occurs, and logs the response for documentation. Practice SafeGuard can send alerts to any email inbox and is optimized for use on iPhone and Android phones and iPads. Each basic Practice SafeGuard package includes three users and six months of history, so doctors, accountants and trusted staff can monitor and respond to alerts instantly, from anywhere, with records of all activity.

"At first, it felt like a lot of information, but we quickly found that the Practice SafeGuard dashboard shows detailed explanations of each violation type and recommendations on how to respond," says Dr. Ball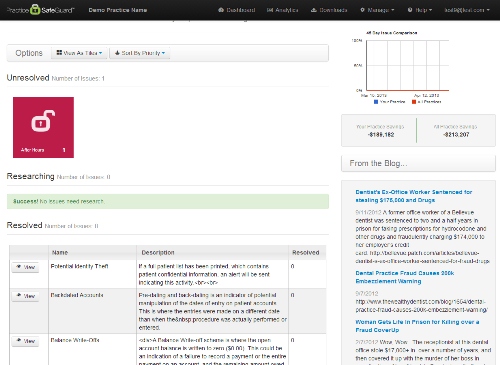 A preview of the alerts and information in the Practice SafeGuard dashboard.

"I was worried about getting flooded with nonissues, but I just receive a daily tally and look through things as I can. Anything we miss stays open in the dashboard and we can easily clear it once we have a resolution. We also export certain issue types into a report that we provide to our Dentrix trainer to address with our staff."

Conclusion and Next Steps
Practice SafeGuard is now available to all Dentrix G5 users who are interested in participating in our Early Adopter program. At $50 for monthly monitoring and $149 to install, the low pricing takes into consideration the investment our first partners make, working with us to help doctors ensure that their practice financials are in order. Early Adopter packages are good for life, but they won't be available for long. Visit www.PracticeSafeGuard.com to become an Early Adopter today.

*Real names withheld
The businesses listed here are not owned or controlled by Dentrix or Henry Schein and have created these descriptions of their company, products and services themselves. Dentrix and Henry Schein make no independent assessment of the above descriptions and consumers should contact these providers directly if seeking additional information about their products or services.
Author:
Donald Lewis, DDS CFE and David Sems CPA CITP
Published:
11/30/2013