Preview: Treatment Planning Workshop
The Dentrix Treatment Planning and Case Presentation Workshop is for Dentrix users who want to gain a comprehensive understanding of how to effectively create, present and manage patient treatment plans. This day-long class will teach you how to use Dentrix to give patients treatment options, educate them about disease and solutions, communicate about costs and insurance coverage and thoroughly document patient consent and refusal.
Here are seven tips from the workshop:
Tip 1: Grouping and Ordering Procedures by Visit
Procedures within a treatment plan case can be grouped into separate visits if there are too many to complete in a single visit, with each visit numbered in the correct sequence. This makes it easier for the appointment coordinator to schedule appointments for the various procedures in the order that they need to be completed.
This can be done in just a few simple steps:
From the Treatment Planner Case Setup pane, expand the treatment plan case (click the + sign next to it) to show all of the procedures included in the case.
Select the procedure(s) for the first visit. To select multiple procedures for a visit, hold down the CTRL key and select all the procedures you want to include.
Click Create Visit at the bottom right of the Treatment Planner Case Setup pane.
Repeat steps 2–3 to create additional visits.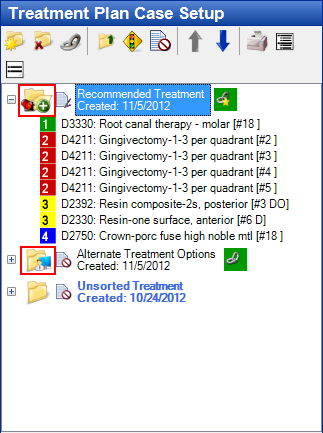 Tip 2: Provide Treatment Plan Details for Different Lengths of Time
To help with case acceptance, consider giving patients copies of treatment plan details showing two different options: one that shows the yearly insurance maximum for treatment completed in the current calendar year, and another showing what the insurance would pay over the life of the treatment plan if it were completed over more than one calendar year.
Tip 3: Why Create Alternate Cases
By creating a new case as an alternate case (vs. creating two separate cases and linking them later), Dentrix automatically links them together so that when one case is accepted, the other is automatically rejected.
Tip 4: Order Procedures before Creating Alternate Cases
Remember to put procedures in a case in the correct order before creating an alternate case. Alternate cases are created with the procedures in the same sequence as the original, so if the original case is in the right order, you won't have to spend extra time to order the alternate cases individually.
Tip 5: Rejecting vs. Deleting a Case
You have the option to delete a case and all of the procedures assigned to it. However, by deleting procedures with a treatment case you remove them from both the Treatment Planner and the Patient Chart. To maintain an accurate clinical record, you should not delete procedures from a treatment plan if a patient refuses treatment. Instead, you should indicate that the case or procedure was rejected.
Tip 6: Use Patient-Friendly Descriptions
Using patient-friendly procedure descriptions will help you better communicate with your patients about the treatment they need. Many procedures have default patient-friendly descriptions already created in Dentrix. These can be customized to suit your patients' needs, including changing them to another language if many of your patients primarily speak a language other than English.
To enable patient-friendly descriptions, go to the View menu in the Treatment Planner and click Use Patient Friendly Descriptions.
To add or customize patient-friendly descriptions, click the Settings button in the Navigation pane of the Treatment Planner. Click Patient Friendly Description, select a procedure from the list and enter the description in the field provided. Click OK to save the changes.
Tip 7: Attach Consent Forms to Cases
Dentrix allows you to sign consent forms electronically and attach them to cases. This way, you don't have to scan signed forms into the Document Center. To attach a consent form, select a treatment case for the patient in the Treatment Planner. Click Supporting Information in the Navigation pane and, in the Informed Consent group box, expand the Select Consent Form drop-down and select the desired form. Click Add and the Consent Form box appears for a signature. You and the patient sign it with the electronic signature device selected during the form setup process.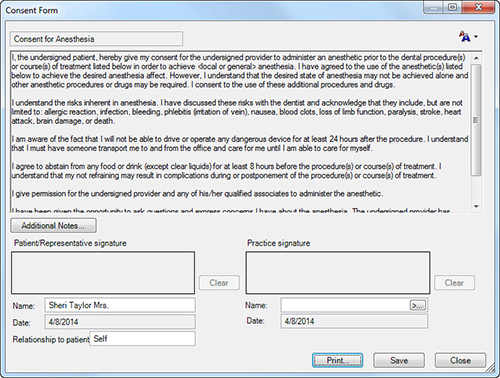 When a case has a signed consent form attached to it, an icon with a paper and pen appears on the left side of the case.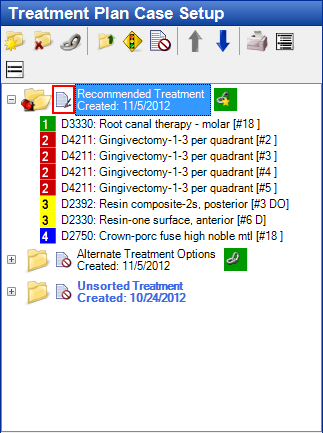 Get more tips like these at the new hands-on Treatment Planning and Case Presentation Workshop. Classes are currently scheduled through early June. Class sizes are kept small so seating is limited. For a detailed course outline and a list of dates and locations, visit http://www.dentrix.com/training/workshops/ and register today.
Save $40 when you register three weeks early!
Earn 6 CE credits!

Henry Schein Practice Solutions is an ADA CERP Recognized Provider. ADA CERP is a service of the American Dental Association to assist dental professionals in identifying quality providers of continuing dental education. ADA CERP does not approve or endorse individual courses or instructors, nor does it imply acceptance of credit hours by boards of dentistry. Henry Schein Practice Solutions designates this activity for 6 continuing education credits per day of class time.

Henry Schein Practice Solutions is designated as an Approved PACE Program Provider by the Academy of General Dentistry. The formal continuing dental education programs of this program provider are accepted by the AGD for Fellowship, Mastership and membership maintenance credit. Approval does not imply acceptance by a state or provincial board of dentistry or AGD endorsement. The current term of approval extends from 01/01/2011 to 12/31/2014. Provider ID#: 218910
Author:
Patty Reay
Published:
04/30/2014