The Evolution of Dental Care Payments
Setting the Scene
Dentistry in the United States is at a crossroads. On one hand, the implementation of the Affordable Care Act is making dental care available to millions of people, the majority of them being children. On the other hand, our population is aging and growing more diverse, which significantly affects the types of treatments being sought, as well as patients' ability to pay.

There's also a shift in consumer behavior and attitudes. Americans increasingly view themselves as consumers of healthcare, rather than patients. This means they're willing to shop around for care and seek more value for their dollar. A 2012 Deloitte Survey of Health Care Consumers finds that "consumers are ready to become more active, informed decision-makers."

Out-of-pocket payments are also a crucial component of dental care today. According to the report "Critical Trends Affecting the Future of Dentistry," produced by Diringer and Associates for the ADA, out-of-pocket payments constitute 42 percent of dental expenditures, compared to only 11 percent of health expenditures.

What It Means for You
This combination of increased demand for dental care, more savvy customers and a shift toward public coverage and out-of-pocket payments means your practice needs to be more efficient and responsive to a diverse set of patient and payment needs. It also means you need to be forward-thinking when it comes to patient financing. According to the Deloitte survey, it's widely understood that cost factors directly impact patient utilization of care, and delayed care is widespread among consumers. Providing patients with payment alternatives at the time of diagnosis can greatly enhance treatment acceptance and patient outcomes. Going a step further, providing patient financing that is flexible and affordable means your practice can offer more to your patients.

How Do You Get There?
You've already taken a significant step as a Dentrix user. But there are some new features integrated in your Dentrix software that you may not be taking advantage of. For example, Dentrix and the Citi Health Card program have partnered to seamlessly integrate patient financing into the practice management software you rely on every day.

Why Integration Matters
Integration of the Citi Health Card program within Dentrix can simplify the patient financing process. Now you can offer your patients a range of flexible financing options that work with nearly any budget, then submit an application with a couple of clicks from inside Dentrix and receive a quick response. If accepted, your patients can get the care they need, when they need it—and you may see an increase in patient acceptance and satisfaction.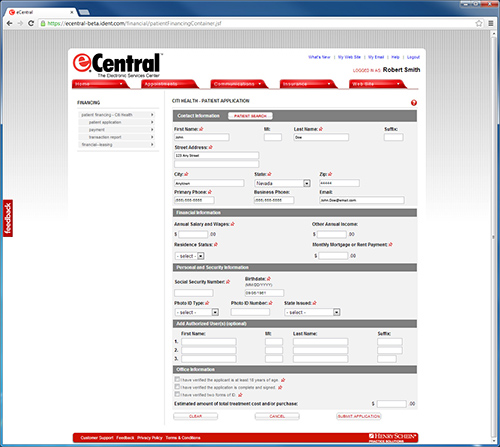 You also have an opportunity to save money by offering your patients the Citi Health Card. Based on a March 2013 comparison, Citi Health Card merchant fees are generally lower than the industry average. In fact, preferred Henry Schein Merchant Discount Rates start as low as 3.99%.

By offering your patients flexible financing options, you have the ability to increase treatment acceptance and put your practice in a position of strength when facing growing out-of-pocket patient expenses and changing patient demographics. The integration of Dentrix and the Citi Health Card program gives you a seamless, elegant solution that brings more value and flexibility to your practice and your patients.

Visit www.Dentrix.com/CitiHealthCard for more information.

Author: Scott Friss, SVP Client Management, Citi
Published: 04/30/2014