Added Value Your Patients Will See
In a recession-type environment, the key question is how does your practice remain in a positive growth mode? The answer is simple-create value. Value is not a great margin, value is not a class one; these are valuable to us but don't necessarily equate to value as perceived by the patient. One way to create value is to build a team that works together. The secret ingredient, beyond paying them all $100 an hour, is communication. From morning huddles to positive dialogue throughout the day, an office that communicates well simply hums.

One product I couldn't do without that makes everyone hum is Henry Schein Guru. How does this help in a recession? It's simple: there are products that simply make your office glow and one of them is Guru. Others that I truly couldn't be without that create such value are Velscope and oral cancer screening, and STA (single tooth anesthesia). Why? Because patients get it. They understand that you are there for their overall health. It's amazing that most of us are constantly trying to get new patients, yet in fact, the majority of our growth is from our recall patients.

With recall comes patient education and awareness and there is no better communication tool on the market than Guru. Period! So your patient isn't flossing? Bring up Hygiene, click on Flossing and off you go into animationville! Patients love it. Stop, pause, draw, and in 20 seconds they get in and get the value. Guru is so easy and can improve any team member's communication skills.

If your assistant has to explain a cracked tooth? Easy again. Simply select Crowns off the menu, and then select Cracked Tooth and off you go into another animation showing a cracked cusp. Can it get better? You bet!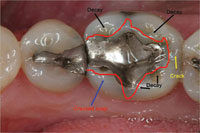 Now take a digital picture or an intraoral picture of the tooth, import it and store it in the patient's chart within Guru. Or, you can simply import it, draw on it, explain what is going on, show the animation and if you want, export it and send it via email back to the patient. Look at the picture and you can highlight decay, a cracked cusp, a cracked marginal ridge, like in Figure A, then show the animation and you're booking your next appointment.


Not enough you say? Take a look at Figure B from a recent lab case. I wanted the incisal embrasure closed and the opacity reduced on #7. Before emailing to the lab, I showed the picture to the patient with the notes. They just said, 'cool!'. That is how you create value.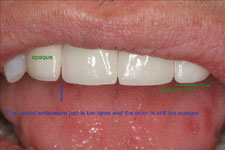 Is there more? You bet. Take some pictures, import them and create your own playlists for presentations. I have created playlists for acid intact and caries, MI paste and remineralization, diastema closures, laser procedures and far more. Simply add your images to the playlist menu, hit customize and then create your playlist with the animations provided in Guru and your own pictures. Add some audio and you have an incredible presentation. Lastly, my office manager has recently gotten into this and in our x-ray she noted the pulp vitality and the outline of decay. We get the reimbursement for the x-ray, pulp testing and an indirect base! Yep. Value, efficiency and far more than a bracket table.
Author:
Dr. Lou Graham, Founder Dental Team Concepts
Published:
09/09/2009