Verifying Billing Statements to Send
Did you know that when you use the Verify Billing Statements to Send option as part of your billing process, you have the ability to preview your batch of billing statements and make changes before they are sent electronically or printed in your office? Verifying your statements also allows you to deselect specific statements and prevent them from being printed or sent electronically, so you don't have to print all the statements and manually pull out the statements you don't want to send.
Before you can use the verify option, you need to turn it on. From the Office Manager, click Maintenance > Practice Setup > Preferences > Print Options and check the Verify Billing Statements to Send option. Then click OK.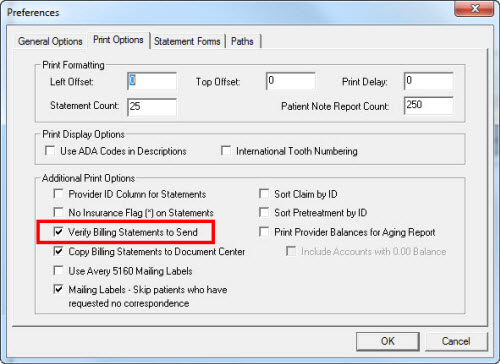 To verify your statements before sending or printing:
Select the billing statements in the Batch Processor and click Print. The Dentrix Print window will open. You can view a preview of each bill that will be sent electronically or printed. Use the left and right arrows within this window to navigate between billing statements in the preview window.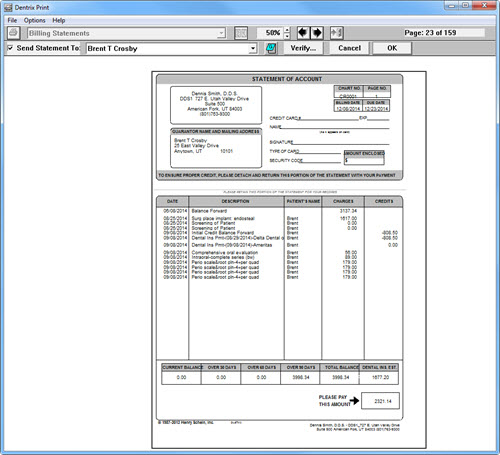 To remove statements from the batch to be sent or printed, uncheck the Send Statement To checkbox. The bill preview turns gray, indicating that the displayed bill will not be sent or printed.
Alternatively, you can click the Verify button to open the Statement Verification dialog box. Here you will see a list of all accounts for which billing statements were generated. Statements will be sent to the accounts that are highlighted in the list. You can use this list to prevent statements from being sent or printed. The highlight will disappear, indicating that the statement will NOT be sent or printed.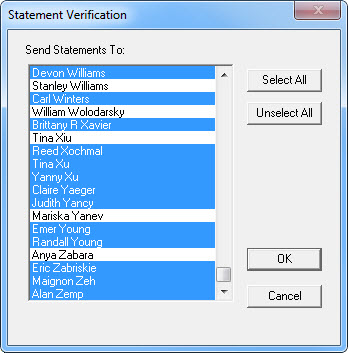 In addition to verifying which statements you want to send or print, you also have the option to add a personalized note to billing statements. In the preview window, click the Guarantor Notes button.
Enter the statement note in the Billing Statement Note field. You can check the spelling of the note and enter an expiration date for the note. The note will appear on the billing statement until after that expiration date.
When you've gone through all of your statements, click OK to return to the Dentrix Print window, and click OK again to send or print only the statements you selected.
The Verify Billing Statements to Send feature saves you time and allows you to only send or print statements for those specific patients you want to receive them. You don't have to print and manually pull out statements, create individual batches of statements to send electronically, hand write messages, or attach stickers to bills, which saves you valuable time and money.
For more information see the "Verifying Billing Statements" topic in the Dentrix Help.
Author:
Sean Eyring, Curriculum Development Specialist
Published:
12/31/2014