Updating Scheduled Amounts
Your dental practice is not just about providing excellent patient care---it's also a business. It's important to update your fees occasionally to keep up with economic trends and ensure that your practice is as profitable as possible.

When you update your fee schedule in the Office Manager, the fees in your scheduled appointments are not updated automatically because you may want to keep the amounts you have quoted to your patients on their appointments for a short amount of time. However, you may want to update the fees for appointments that are scheduled after a certain date in the future to make sure they match your standard office fee schedule.

Dentrix G4 Productivity Pack 7 makes it easy for you to update those scheduled amounts. With the new Update Scheduled Amounts feature, you can globally update the scheduled amounts without having to edit each appointment and re-select the reason for the appointment.


To update scheduled amounts:

1. In the Appointment Book, select Options | Update Scheduled Amounts.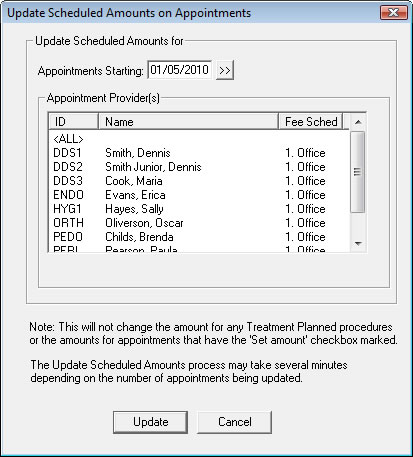 2. Select the date as of which you want to update amounts.
Only those appointments scheduled on or after that date will be updated.

3. Select the provider(s) for whom you want to update amounts.
Only those appointments scheduled with those providers will be updated.

4. Click Update.
Author:
Erin Brisk
Published:
05/04/2010