Easily Entering Claim Adjustments with PP8
Sometimes insurance carriers overpay or underpay a claim and then add or deduct that amount from another claim later. Dentrix has always made it easy to enter write-off adjustments when you add a payment to a claim, and now with Productivity Pack 8 you can also enter refund adjustments. You can even specify the default write-off and refund adjustment types for insurance adjustments.

To enter a refund adjustment when you add an insurance payment to a claim:
From the Ledger, select the patient and open the insurance claim for which you want to enter a payment.
In the insurance claim, click Enter Payment and select Total Payment Only. The Total Insurance Payment dialog box appears.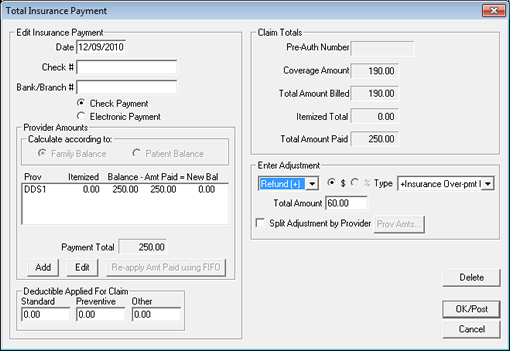 Enter the payment information, such as date, check number, bank/branch number, and type of payment.
In the Provider Amounts group box, select the provider to whom you want to apply the payment. Click Edit to enter the claim total or click Add to add a payment for a new provider.
In the Enter Adjustment group box, select Refund (+) from the drop-down menu.  The type will be automatically selected for you based on your settings in the Insurance Settings Setup dialog box (see steps below).
Enter any additional refund information, like the total amount you want to refund and amounts you want to split between other providers, and click OK.
To specify the default write-off and refund insurance adjustment types:
From the Ledger, click File > Insurance Payment Setup. The Insurance Payment Setup dialog box appears.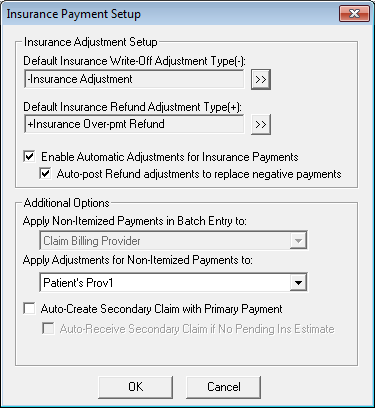 In the Insurance Adjustment Setup group box, click the search buttons to open the Select Adjustment Type dialog box and select the default insurance write-off and refund adjustment types.
If you want to have Dentrix automatically calculate adjustments when you enter insurance payments, check Enable Automatic Adjustments for Insurance Payments.
If you want Dentrix to automatically post adjustments to replace negative payment amounts, check Auto-post Refund adjustments to replace negative payments.
Click OK to save the default adjustment types.
For more information about entering insurance adjustments or setting up default adjustment types, open the
Dentrix Resource Center
and view article number 49578.
Author:
Erin Brisk
Published:
12/21/2010