Better Protection Against Fraud in G5
It happens in every dental office. You look at information in Dentrix at some point in time, and when you look at the same information again later, it has changed—payments have been deleted or adjusted, new procedures have been added outside of an appointment, or previously posted procedures have been deleted or changed. It's important to know who is making these changes and why.
The Audit Trail Report allows you to track changes made in Dentrix. Among other things, this report lists changes made to financial data such as patient payments, insurance payments, credit/debit adjustments, as well as information in the Family File and user passwords.
With Dentrix G5, the reports are even more helpful, with sequential numbering for fraud protection. Each time someone previews or prints a report, the Audit Trail entry now includes the type of report, the audit number, and the date and time stamps of the report. If you have enabled passwords, the Audit Trail also includes the user name of the person who generated the report. The sequential numbering can alert the doctor to possible instances of fraud in the office.
To generate an Audit Trail Report:
From the Office Manager's Maintenance menu, click Audit Trail Reports.
Under Select Report Types, select Standard, then click OK.
Below is an example of an Audit Trail Report and the type of information the report provides.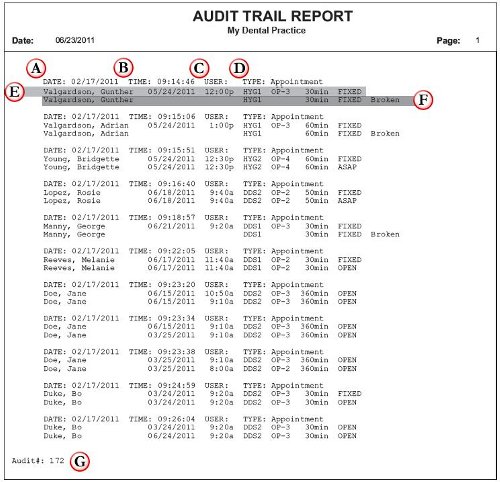 Date — The date of the change.
Time — The time of the change.
User — The Dentrix user who made the change. (This will appear blank on the report if you have not set up and enabled passwords in Dentrix.)
Type — The audit entry type. The following types can be included in this report:

Completed procedures
Guarantor payments
Insurance payments
Insurance/employer join
Adjustments
Patient changes
Appointment changes
Prescriptions
Password/login
Generated day sheets
Generated audit trails

Original Data — The original data before the change.
New Data — The updated data.
Audit Number — The sequential number of the Audit Trail Report.
For more information about generating the Audit Trail Report, log in to the Dentrix Resource Center and view the webinar recording titled "Passwords and the Audit Trail Report." For additional information about setting up and customizing the Audit Trail Report for your office, see the Audit Trail Report topic in the Dentrix Help Files.
Author:
Sean Eyring
Published:
07/25/2012