Generating the Practice Advisor Report
As you approach the end of the year, it is important to know how your practice is performing in key areas such as production, collections, continuing care, scheduled management, and new patient analysis. The Practice Advisor Report delivers this information all in one report.

The Practice Advisor Report compares your practice statistics for the previous month, current month, and year to date with industry-standard benchmarks (based on a typical practice of one doctor) and offers recommendations to help you improve your practice's profitability. The Practice Advisor Report is made up of the following sections: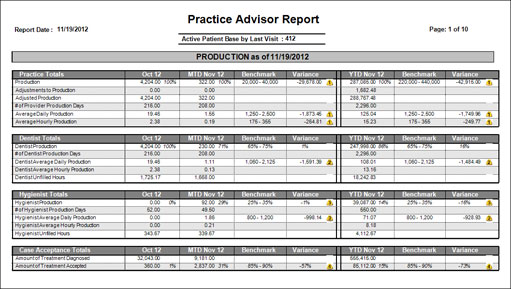 Production
The Production section shows you practice totals, dentist totals, hygienist totals, and case acceptance totals by date range. These totals are based on your production amounts and the benchmarks set up in the Practice Advisor.

Collections
The Collections section shows you your total collections and the variance between your actual collections and the benchmark, as well as your office's aged accounts receivable.

New Patient Analysis
The New Patient Analysis section shows you new patient totals, such as the number of new patients by first visit date, procedure treatment planned date, treatment accepted date, and referrals. The report also compares the totals to the benchmarks.

Continuing Care
The Continuing Care section of the report gives you information about your continuing care totals and compares those totals to your benchmarks.

Schedule Management
The Schedule Management section shows you the average production for your providers, the amount number of provider unfilled provider hours, the value of those unfilled hours, and statistics about broken appointments. While there are no benchmark comparisons in this section, you can see at a glance how well you are keeping your schedule full and see the monetary value of unfilled time and broken appointments.

To run the Practice Advisor Report:
Open the Office Manager.
Select Analysis, then Practice Advisor (or click the Practice Advisor button).
In the Practice Advisor dialog box, click the Practice Advisor Report button.
In the Practice Advisor Report dialog box, set the options for the data you want to populate the report.



Click the Preview button.
For more information about the Practice Advisor Report, log in to the Dentrix Resource Center and view the Practice Advisor webinar recording on the On-Demand Training page or download a copy of the Dentrix Reports Reference from the Manuals page.
Author:
Sean Eyring
Published:
11/30/2012