Next Steps: Setting up Your 2013 CDT Codes in Dentrix

Henry Schein recently released a CDT Code update utility that adds the new 2013 ADA CDT procedure codes to your Dentrix database. Running this utility ensures that you have the new codes in your system, but there are additional steps you should take to make sure you can use the new codes in Dentrix.
For example, when you schedule an appointment you can click the Initial button to select appointment reasons like prophy and adult fluoride. If you have the old fluoride-child code (D1203) and fluoride-adult code (D1204) set up in that list, you will need to update the list to replace the old code(s) with either D1206 or the new D1208 code installed by the update utility.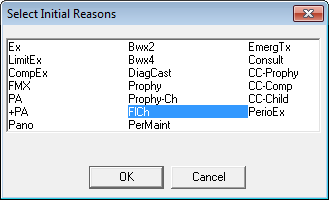 To set up the procedures that are listed in the Initial box:
Open the Office Manager and click Maintenance > Practice Setup > Definitions to open the Practice Definitions dialog box.




Select Appointment Reasons in the Definitions Type drop-down menu. Highlight the fluoride code(s) you want to change. Replace the code in the definition text with the new procedure code and click Change.
Click Yes to the message that appears to change the definition.
Now when you add a fluoride code to an appointment using the initial reasons, the new procedure codes will be attached to the appointment.
Procedure codes are also associated with the procedure buttons in the Chart, multi-codes, treatment plans, and procedure fees. You should check to see if these parts of Dentrix need to be updated as well. Otherwise, you'll find that you're using the old codes, even though the new codes are available in your Dentrix software.
Henry Schein Practice Solutions (HSPS) has created a video demonstration to walk you through the steps to update your procedure codes in Dentrix after you have installed the new CDT codes. The video is free and available to anyone on YouTube. Click here to view the video.
HSPS has also created a knowledgebase article that describes each of the places you must update codes in Dentrix, provides step-by-step instructions for making the needed changes, and has a link to the video on YouTube. To see the article, log in to the Dentrix Resource Center and search for article #65474.
Author:
Erin Brisk
Published:
03/04/2013