Partner Spotlight – Easy, Automated Practice Analytics

Dentrix helps you manage your practice, but it can be difficult to get a clear view of how well your business is running.
practice. While dentists diagnose oral health, Practice Analytics helps diagnose the business health of a practice. As a dentist, hygienist or office manager, you can use Practice Analytics to leverage the robust information found in Dentrix to see what's really happening across your practice. Practice Analytics uses Dentrix data to give you a real-time, cloud-based dashboard to help you quickly and easily understand the health of your practice, identify production opportunities and see where patients may be slipping through the cracks. We encrypt protected health information and securely send it to our cloud servers, keeping it safe and easy to access anytime you need it.
Practice Analytics helps you closely monitor the patient lifecycle, which then lets you measure performance and create accountability in your practice. If you look more closely at what's happening in hygiene, for example, you can quickly identify opportunities to strengthen and improve your practice.
Let's look at one of the important metrics of hygiene performance: recall or reappointment rate. At Practice Analytics, we have found that most dental practices average a 65 to 70 percent hygiene recall rate among patients. However, raising that metric to 85 or 90 percent helps maximize hygiene utilization, improves patient retention and increases the overall production needed to ensure a successful practice. With Practice Analytics, we can use the information stored in Dentrix to show you exactly how successful each hygienist is in reappointing their patients.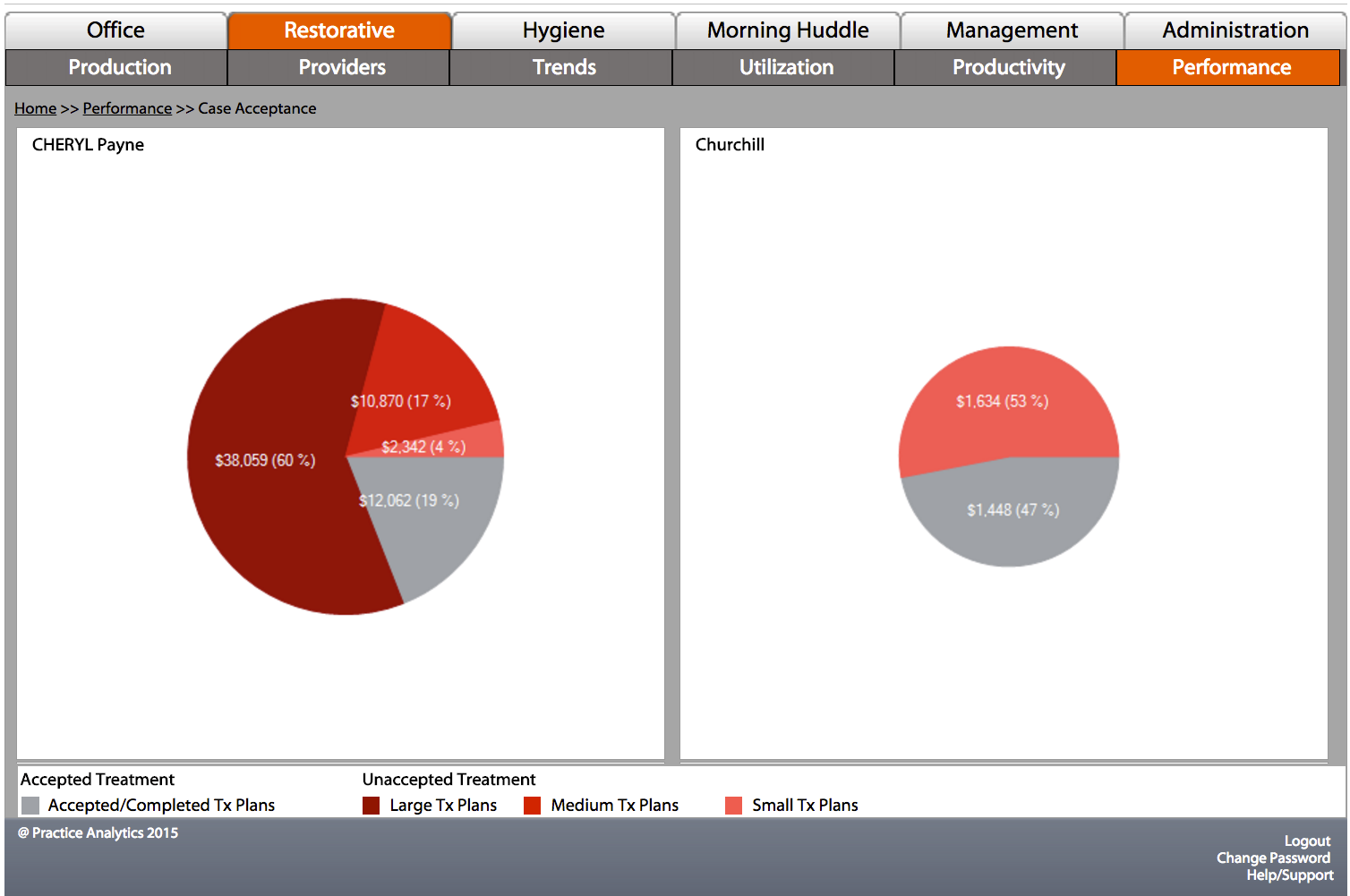 More importantly, Practice Analytics lets you drill down further to see the list of patients who did not reappoint with the hygienist they saw.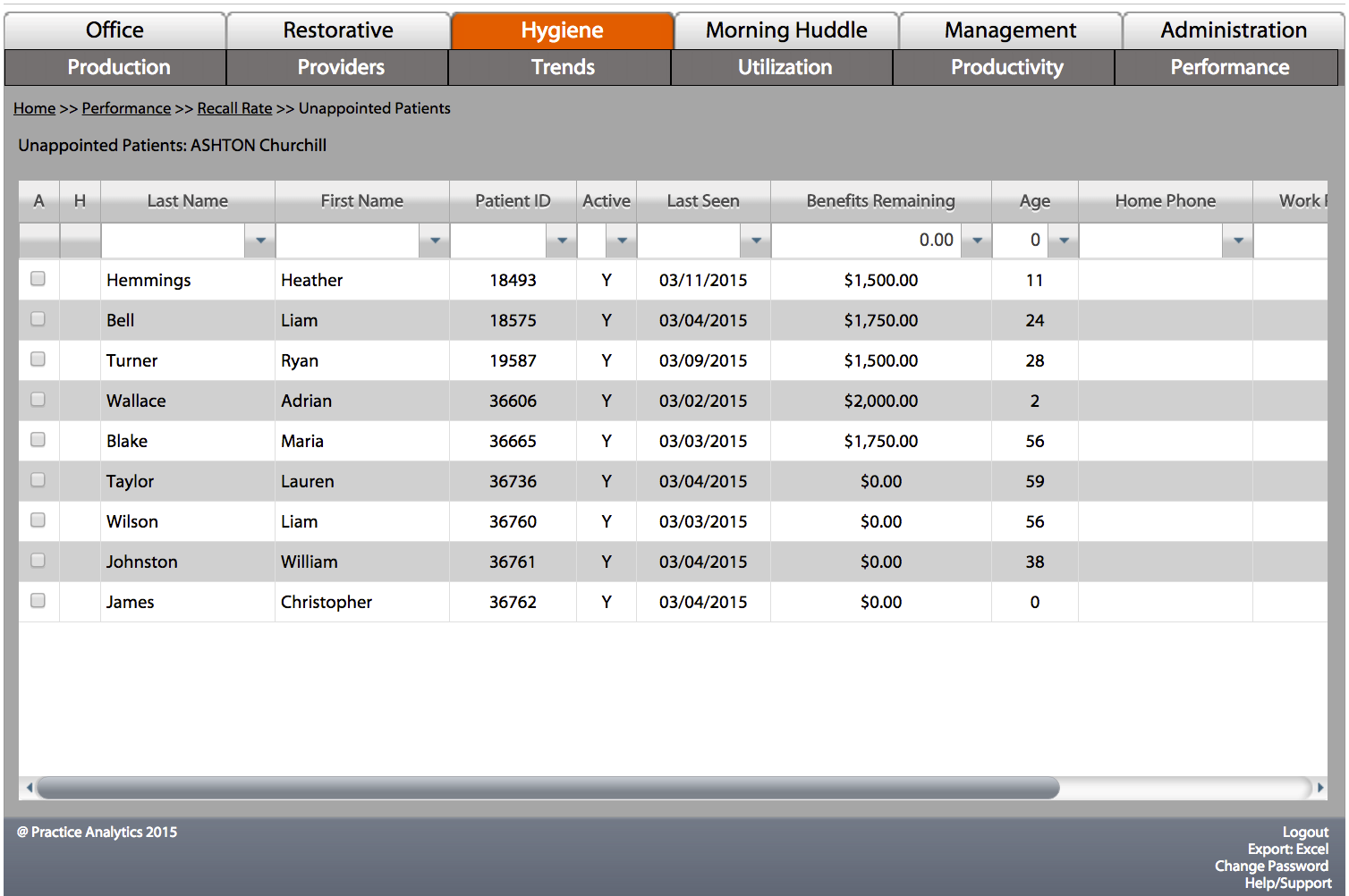 By tying patients back to a specific hygienist, you now create accountability. Identifying those patients allows you to focus on them individually so you can make sure they stay on a regular hygiene schedule.
Another important metric of the patient lifecycle is restorative case acceptance. Case acceptance measures whether patients are accepting the treatment they need to improve their oral health. Increasing these rates can have the greatest single impact on the success of your practice. Even marginal improvements can pay significant dividends. For example, a 1 percent increase in case acceptance can lead to an average improvement of 5 to 7 percent in overall production.
Practice Analytics not only helps you find outstanding treatment for every patient, it helps identify ways to improve case acceptance rates. Information such as benefits remaining, insurance coverage and treatment plan details are readily accessible.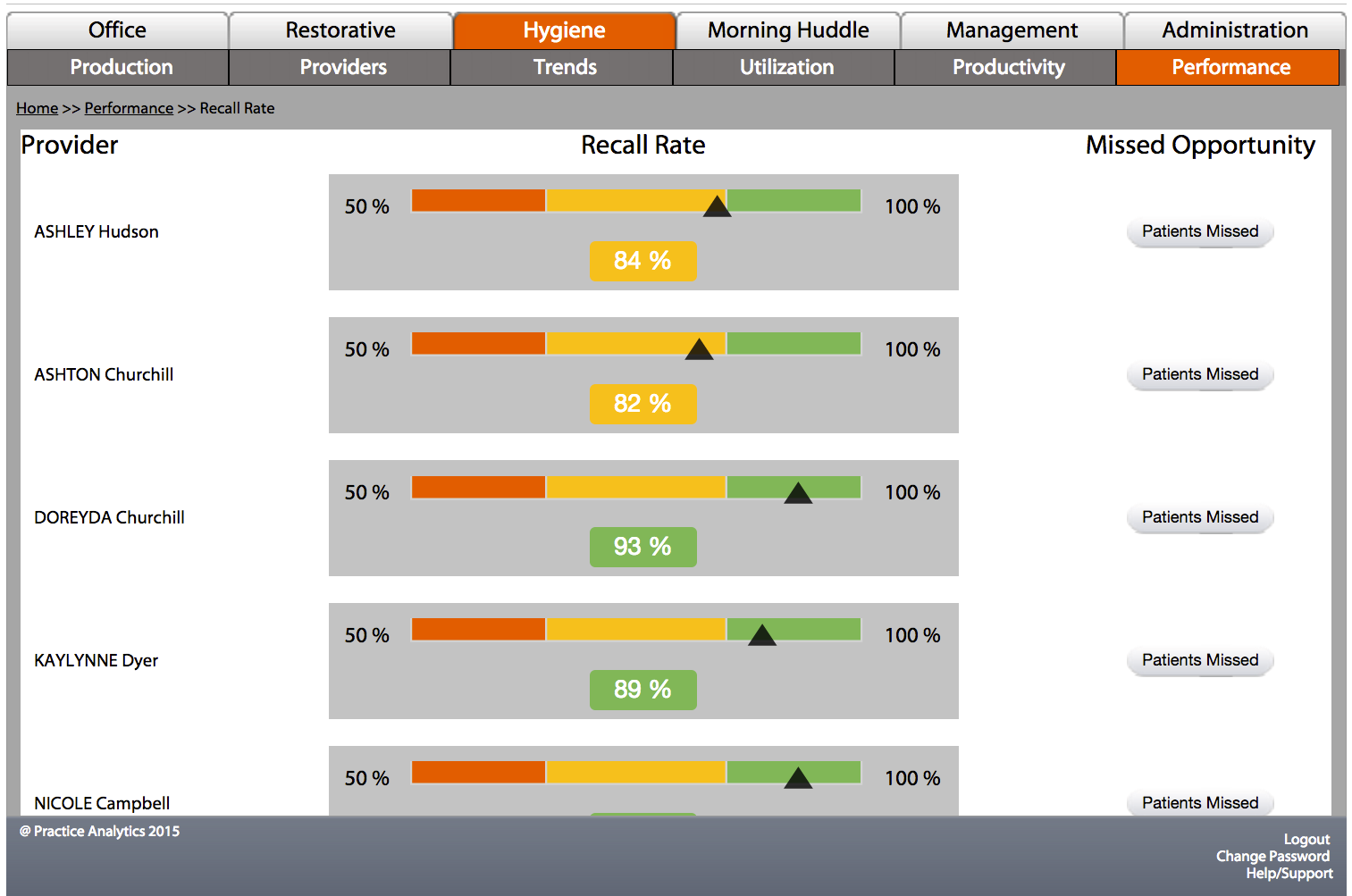 Restorative case acceptance and hygiene recall are just two measurements that monitor the patient lifecycle. Dentrix contains tremendous amounts of data and Practice Analytics incorporates that data in a tool that team members can easily use. Tracking what patients do (or don't do) will help you quickly and easily identify several production opportunities within the hygiene and restorative programs.
Adding up those opportunities can yield an incremental production opportunity that can be as high as 20 to 25 percent of your current production. Having the right information is key to maximizing production opportunities across your practice. Leveraging that information will improve overall performance for hygienists and doctors by helping everyone understand and be accountable for what drives the overall success of the practice—and ultimately your patients' healthcare.
For more information or a Practice Analytics demo, contact us at info@practice-analytics.com or 360.335.3850. We'll show you how Practice Analytics can help your practice today.
The businesses listed here are not owned or controlled by Dentrix or Henry Schein and have created these descriptions of their company, products and services themselves. Dentrix and Henry Schein make no independent assessment of the above descriptions and consumers should contact these providers directly if seeking additional information about their products or services.
Author:
Jeff Clark, President, Practice Analytics
Published:
11/30/2015