Procedure Code Settings to Speed Up Office Workflow
With the release of the new ADA code set this past winter, you may have found yourself in the Dentrix Procedure Code Editor making changes to existing codes and adding new ones. As you were making those changes, you may have realized that with Dentrix, you're able to do much more with codes than just add the code and a description. From the Procedure Code editor, you can automate and simplify many different tasks that are tied to procedure codes by using Treatment Flags.
To access the Procedure Code Editor, from the Office Manager, click Maintenance > Practice Setup > Procedure Code Setup. The Treatment Flags group in the Procedure Code Editor contains four different options: Difficult Proc., Condition, Remove Tooth, and Show in Chart.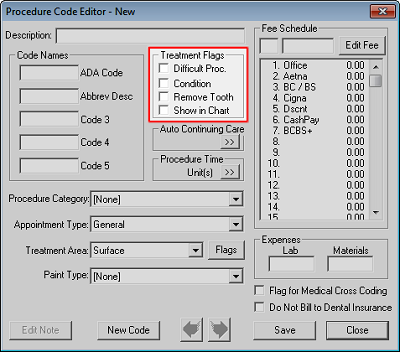 By marking the Difficult Procedure flag, an asterisk is added next to the patient's phone number in the Day Sheet Report whenever that procedure is posted to a patient's chart. This makes it easy for providers to see which patients they should be following up with at the end of the day. With this simple edit to the procedure code, you can go a long way in the customer service department by making follow-up phone calls when patients have difficult procedures performed.


By selecting Condition, you can use that procedure code to indicate the state of a patient's mouth. Dentrix automatically flags procedures 15000-15115 as conditions, but you can add additional conditions as needed. Keep in mind that when procedures are flagged as conditions, you indicate that the code should only be used as a clinical notation. As a result, condition codes aren't listed in the Ledger, they aren't subject to fees, and they aren't billable to insurance.


When you mark the Remove Tooth flag for a code, the selected tooth will be removed from the Patient Chart when you post the code complete. Extraction codes and missing teeth condition codes already have the Remove Tooth flag marked, but you can mark the flag for any customized codes you have added to your code set.


When you select Show in Chart, the procedure code shows under the corresponding category in the Patient Chart Procedure Codes panel, without your having to fully expand the category by clicking More Codes. This is especially helpful if the codes you often use aren't displayed by default in the Procedure Codes panel. With Show in Chart selected, the code will always be visible for quick access when you're charting.
By taking some time to set Treatment Flags for your existing and new procedure codes, you can make work in your office much more efficient.
For more information about how to edit procedure codes, see the "Editing ADA-CDT dental codes" topic in Dentrix Help.
Author:
May Wescott
Published:
04/30/2013