Treatment Plans with Benefits Available Report
The Treatment Plans with Benefits Available report displays patients who have treatment plans posted to the Ledger and unused insurance benefits still available.
| | |
| --- | --- |
| When: | Monthly |
Phone List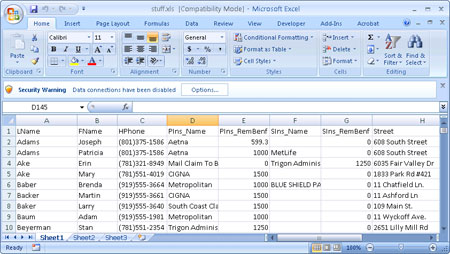 How Do I Create a Phone List?
The following instructions assume you are familiar with the DENTRIX letter merge feature. See the Office Manager chapter of the DENTRIX User's Guide for details about how to use this feature.
From the Office Manager, select the Letters menu to open the Letters dialog.
Click the Misc button to open the Misc Letters dialog.
Double click Treatment Plan Reminder to open the Patient Report View dialog.
Click the Data Fields tab to display the report data fields.
Check the Home Phone check box and click OK.
In the Misc. Letters dialog, highlight Treatment Plan Reminder and click Create/Merge to open the Create/Merge Options dialog.
Mark Create Data File ONLY and click OK to create the data file.
In the Misc. Letters dialog, click View List to open the data file as a text file.
Import the file into a spreadsheet (e.g. Excel or Quattro).
This tip is an excerpt from the DENTRIX G4 Reports Reference. The Reports Reference features detailed information about the reports in DENTRIX G4, including instructions for generating and reading reports and advice about how to use reports and how often to run them.

To obtain a copy of the Reports Reference, log in to the Resource Center at www.dentrix.com/resourcecenter. From the Resource Center, you can download a digital copy of the Reports Reference or you can link to our printing partner to obtain a printed version.
Author:
Published:
09/22/2009