Drag and Drop from Unfiled Documents
The Dentrix Document Center allows your office to become truly paperless with the ability to scan, import, or capture documents that can be attached to a patient account. Within the Document Center is a window called Unfiled Documents, where documents that you have scanned or imported into Dentrix are stored until you attach them to the appropriate patient.
Attaching an unfiled document to a patient consists of three steps:
Assign the document a Document Type
Give the document a description
Select the patient to whom the document will be attached
You can save time and eliminate the first two steps by dragging a document from the Unfiled Documents window directly to a Document Type folder within a specific patient's Document Center. Dentrix will automatically fill in the patient's name and the Document Type, so all you have to do to attach the document is enter a description.
First, select the patient to whom you want to attach the unfiled document. Then from the Unfiled Documents window, click and drag the document to the appropriate document type in the patient's Document Center.
While dragging the document, the cursor will show a "no" symbol.

Once you hover over the patient's Document Type folder, the cursor changes from a "no" symbol to a "box" symbol. Release the mouse button to drop the document into that Document Type folder.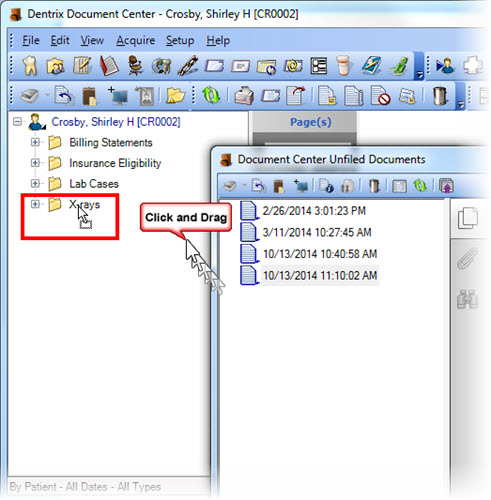 When you release the mouse button, the Document Information dialog box appears. The Document Type field is pre-filled with the name of the folder you dropped the document into. Enter a description of the document in the Description field, enter any notes or other information about the document, and then click OK.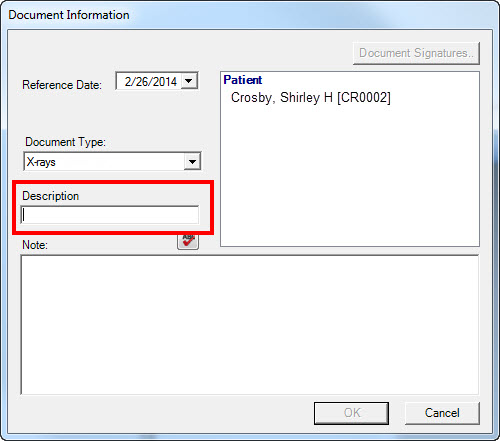 If the patient to whom you want to attach the document doesn't already have the Document Type folder you want to use listed in his/her Document Center, drag the unfiled document to the patient's name and release the mouse button.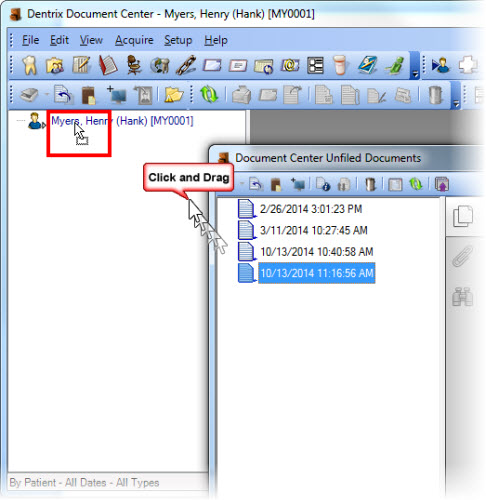 The Document Information dialog box will appear with just the patient selected and will allow you to select the Document Type and enter the Description.
For additional information about using the Document Center, please view the "Storing Documents in the Document Center" tutorial found in the Dentrix Resource Center under the Videos tab. For more Dentrix tips, follow our weekly Tip Tuesday blog or "like" us on Facebook. You can also follow us on Pinterest where we've set up a collection of boards categorizing past tips.
Author:
Sean Eyring, Curriculum Development Specialist
Published:
11/30/2014