Dentrix G5 Connected Solution: Practice SafeGuard
When it comes to leaky plumbing, the sooner you can detect and fix the problem, the less it will cost you. The same is true of financial issues in your dental practice.
A mistake or fraudulent transaction in your ledger will leak revenue as long as it goes undetected. For Donald P. Lewis, DDS, CFE, an oral and maxillofacial surgeon in Cleveland, Ohio, embezzlement cost him more than $125,000.
"It happened over a period of three and a half years, and it was devastating," Dr. Lewis says. So devastating that he became a Certified Fraud Examiner and has spent the last 20 years educating other dentists about fraud prevention.
With the help of technology, forensics and financial experts, Dr. Lewis has developed a fraud-detection product specifically for dental practices. The web-based product, Practice SafeGuard, is now a Dentrix G5 Connected solution that works invisibly with your Dentrix G5 Ledger.
76% of Dentists Losing Income
Beta tests with early Practice SafeGuard installations discovered $4.5 million in potential financial issues. A Practice SafeGuard survey in 2013 showed that 63% of dentists don't check their audit reports daily, yet 76% of dentists believe they're currently losing income to fraud or mistakes.
"You can see there's a critical need for dentists to monitor their financial transactions, and now they can do it automatically with Practice SafeGuard," Dr. Lewis says.
As small businesses, dental practices are more vulnerable to fraud than large businesses (100+ employees). The 2014 Global Fraud Survey by the Association of Certified Fraud Examiners (ACFE) – of which Dr. Lewis is a member – shows that small businesses were victimized in the greatest percentage of fraud cases reported.
The survey report concludes, "Small businesses are both disproportionately victimized by fraud and notably under-protected by anti-fraud controls, a combination that makes them significantly vulnerable to this threat." (http://www.acfe.com/rttn-conclusions-2014.aspx)
Other sobering statistics from the ACFE survey include:
The median loss caused by fraud across all industries surveyed was $145,000.
The median loss for health care professionals who were victims of fraud was $200,000.
Fraud caused 22% of the cases in the survey to lose at least $1 million.
The ACFE survey also reports that the median duration for the fraud cases reported — the amount of time from when the fraud commenced until it was detected — was 18 months. At the time of the survey, 58% of the victim organizations had not recovered any of their losses due to fraud, and only 14% had made a full recovery.
"It takes time and effort to recover – whether the money is stolen by fraudsters or leaked out of your ledger by bookkeeping mistakes," Dr. Lewis says. "It's much better to prevent the loss from happening."
24/7/365 Monitoring
Many dentists don't have the time or the resources to monitor their ledgers on a daily basis. Practice SafeGuard monitors your Dentrix G5 Ledger 24 x 7, 365 days of the year. It scans for extreme and unusual transactions such as:
Back-dated accounts
Collection ratios
Deposit summary
Discount allowances
Fee adjustments
Future-dated accounts
Ledger entries after hours
NSF checks adjustments
Potential accounting rules violations
Potential identity theft
Unusual fees
Zero charges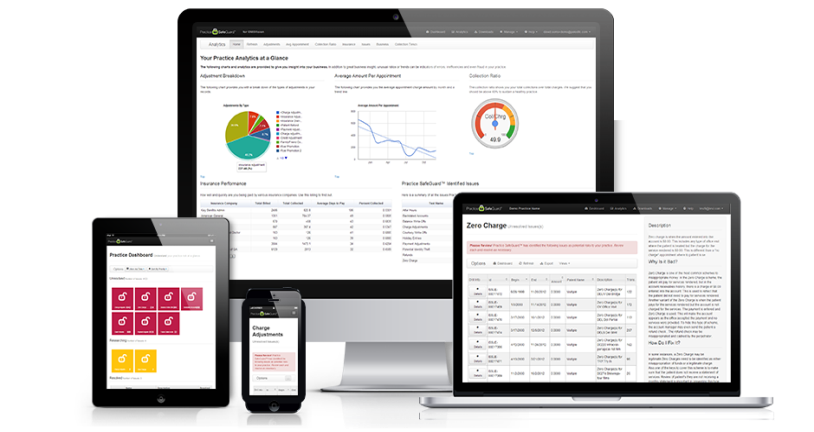 Practice SafeGuard doesn't manage your database, it mirrors your data and refreshes every five minutes. It doesn't keep an open connection and doesn't affect your software performance. It uses 128- bit SSL encryption to protect your data during refreshes.
Practice SafeGuard is accessible via the web on any device, including smartphone, tablet, PC and Mac. Because it's web-based, it requires no storage on your servers and no software updates. Your only download is an installer file that's less than the size of a document.
To use Practice SafeGuard, you don't need to enter any data, run reports or monitor findings. The system does it for you automatically. The findings are constantly updated on a practice dashboard, and an alert is instantly sent to your cell phone whenever Practice SafeGuard detects an extreme issue.
"It installs in less than a minute," Dr. Lewis says. "We train you how to use it over the phone. Popups tell you what you need to do next, but if you have a problem, give us a call."
In addition to real-time monitoring, Practice SafeGuard scans your ledger history for the past six months to identify older issues.
"After installing Practice SafeGuard, one of our customers found $42,000 worth of professional courtesies he'd given away in the past six months. He had no idea the number was that large," Dr. Lewis says. "Another customer discovered $30,000 of fraud in the first week of using our product."
Practice SafeGuard detects and identifies potential financial issues in your Dentrix Ledger; it doesn't resolve them.
"We don't take a stand on what a practice should do; we provide the data and insight for the practice to stop the bleeding," he explains. "What you do with the data is up to you and the best interests of your practice."
How to Get a Free Scan
Dentists running Dentrix G5 can download a free, one-time ledger scan and see how Practice SafeGuard works. Go to www.practicesafeguard.com/quickscan/ and download the Practice SafeGuard QuickScan.
The QuickScan file does not install permanently or re-run itself. You can easily delete it from your hard drive when you're finished. QuickScan will scan your Dentrix G5 ledger for entries in your database that violate standard accounting and fraud rules. In just a few seconds, you'll know whether you have issues to review.
The most common entries that could indicate income loss include back-dated accounts, zero charges and charge adjustments. QuickScan assigns a dollar amount to the unusual entries it detects so you can see how much of your income could be affected.
Author:
Michael Fillmore, Dentrix Marketing Manager, Henry Schein Practice Solutions
Published:
12/31/2014