What's New in Dentrix Help?
Need help with a particular Dentrix feature? Try out the new Help system for Dentrix Productivity Pack 7. We've made several improvements. This article explains some of the more significant enhancements that make Dentrix Help easier to use.
Integrated Table of Contents
Dentrix previously provided over 15 separate Help systems, each of which was opened from a Help menu for that particular Dentrix module. For example, clicking Help > Contents from Patient Chart opened the Patient Chart Help, shown here: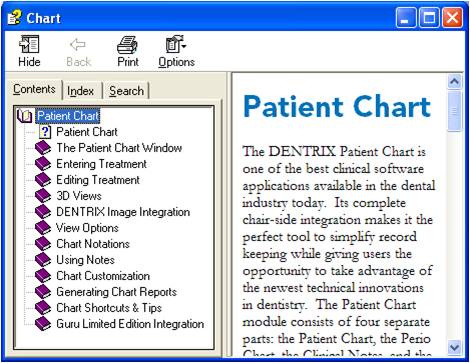 TheContents tab provided a table of contents for the Patient Chart Help, but no other Dentrix Help was available when using the Patient Chart Help. For example, to access the Ledger Help while in Patient Chart, you would have to start Ledger and open the Ledger Help from the Ledger's Help menu.

The new Dentrix Help integrates all the separate Help systems into a single Dentrix Help system with a comprehensive table of contents to cover all Dentrix modules and features, as shown here: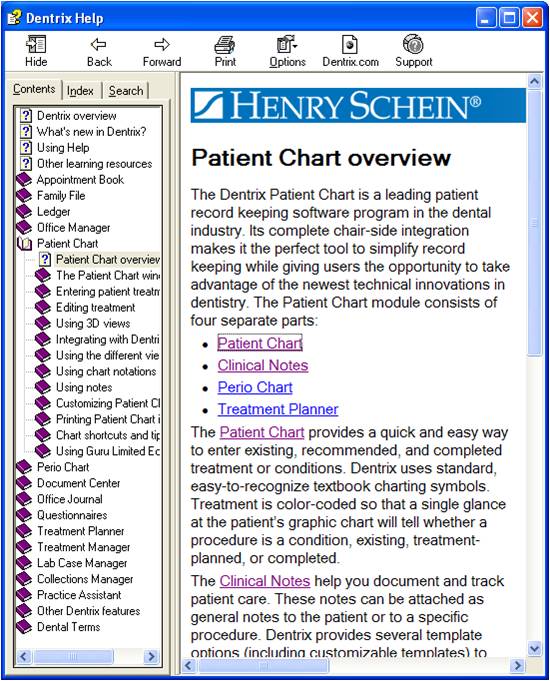 When you open the new Dentrix Help system from any Help menu, the Help Contents tab now provides access to all Dentrix Help, including:
Appointment Book
Treatment Planner
Family File
Treatment Manager
Ledger
Lab Case Manager
Office Manager
Collections Manager
Patient Chart
Practice Assistant
Perio Chart Help
Document Center Help
Office Journal
Questionaires
Dental Terms
And More
Integrated Index
Previously, the Help system for each Dentrix module was indexed separately, so the
Index
tab only listed topics included in a single Help module: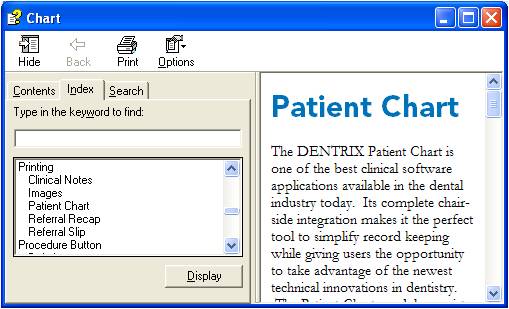 With the integrated index, you don't need to know which Dentrix module to open to locate Help on a particular feature. The new Dentrix Help system provides an integrated index with entries for all Dentrix modules. This example shows index entries for all topics related to
printing
in Dentrix.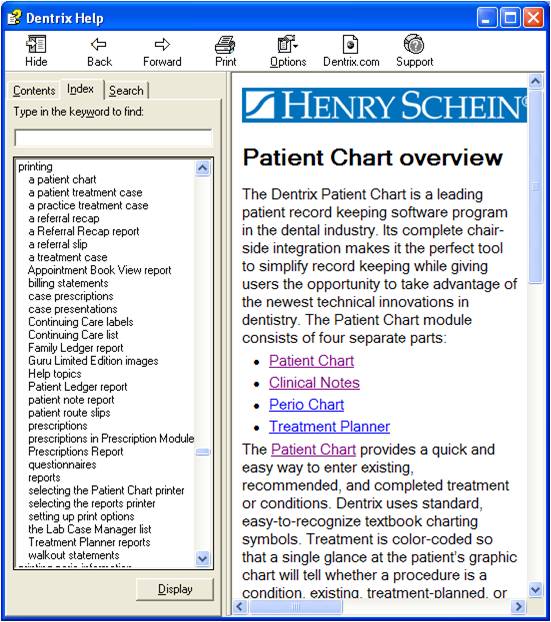 True Full-Text Search Capabilities
Although full-text searching was available in the previous Help system, it was limited to a search of whichever Help module you had open (such as Patient Chart Help). If you didn't know which Dentrix module contained a particular feature, you would have to open the Help for multiple modules and perform the full-text search in different Help systems until you discovered which module contained the topic you were searching for. You can now use the
Search
tab to perform a full-text search on the
entire
Dentrix Help system.
Additional Full-Text Search Options
Several full-text search options have been added to the Help, making it easier to find information in the Dentrix Help. You can use search operators, such as "AND," "OR," "NEAR," and "NOT," to create search strings that will yield precisely the information you want. In the example below, "AND" and "NOT" are used to find Help topics that include the words "insurance" AND "billing" but NOT the word "medical."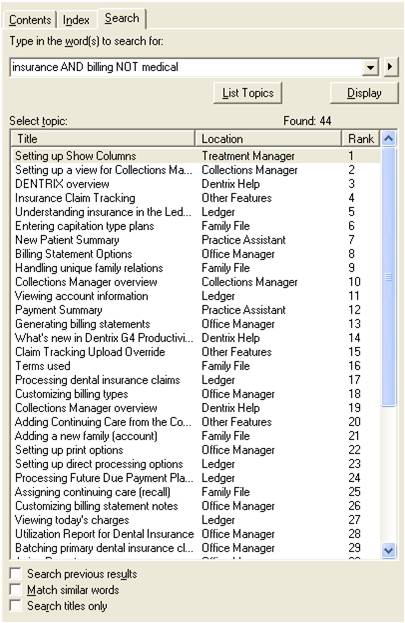 The search results now show the number of topics found so you can revise your search criteria if needed. The search results are now ranked according to the number of times the search words occur in each topic. The
Location
column also shows the area of Dentrix Help in which that particular Help topic appears (such as Treatment Manager or Collections Manager), so you know which Dentrix module this information pertains to. You can sort the results list by topic name, location, or rank by clicking on the appropriate column heading.
Three additional full-text search options are also available to refine your searches:
Search Previous Results
- Select this option to revise your search criteria and search only the previous search results.

Match Similar Words
- Select this option if you want the search to find words that are also similar to your search words, but are not exact matches. For example, with this option selected, searching for "print" would also find "printing," "printer," "printed," and "prints."

Search Titles Only
- Select this option if you want the search to only look at Help topic titles.
Introduction to All Dentrix Components
This new Help topic provides a one-paragraph overview of all the Dentrix components. This includes the five main Dentrix components (Appointment Book, Family File, Ledger, Office Manager, and Patient Chart) as well as all the other Dentrix components (such as Perio Chart and Document Center) and Dentrix add-ons (such as VoicePro, eTrans, and QuickBill).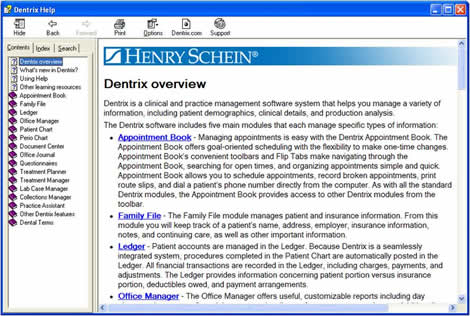 Each overview paragraph includes a link to the overview topic for that Dentrix module that you can click to begin learning more.
"What's New in Dentrix?" Help Topic
This new Help topic provides a quick summary of the new features available in this Dentrix release. Clicking a hyperlink takes you directly to the Help topic that further explains that new feature.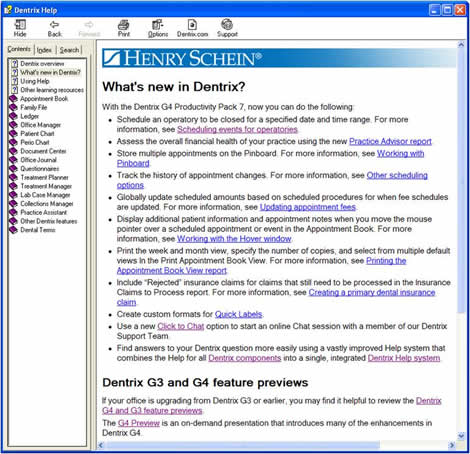 If you scroll down in this topic, you'll find a
Dentrix G3 and G4 feature previews
section with hyperlinks to "release previews" presentations that overview the new features in G3 and G4. You can view these on-demand presentations right in the Dentrix Help window.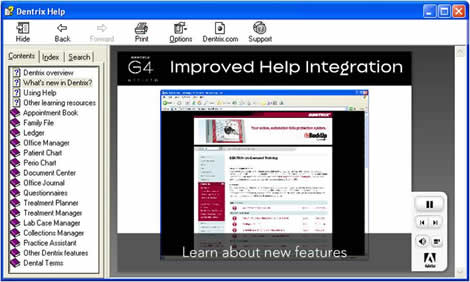 You may find this helpful if you are upgrading from Dentrix G3 or earlier. New features lists for Dentrix G2, G3, and G4 are also available by clicking the appropriate links in the Help topic.
Information and Tips on How to Use and Print the Dentrix Help
A new "Using Help" topic explains many of the new Dentrix Help features that are covered in this document, including using the
Contents
tab, the
Index
tab, and the
Search
tab. It also explains how to print individual Help topics or entire sections of the Help, so you can easily access the printed documentation you need.
Links to Other Support and Learning Resources
By clicking on the "Other learning resources" topic, you can read information about other Dentrix support and learning resources. Hyperlinks take you directly to the Web pages on Dentrix.com where these resources and services are explained.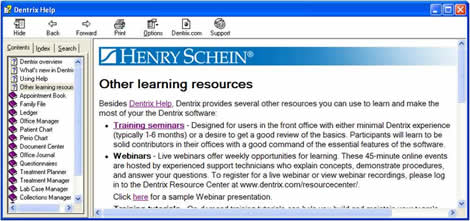 For example, clicking the link for Training seminars displays the Dentrix Training Seminars Web page on Dentrix.com: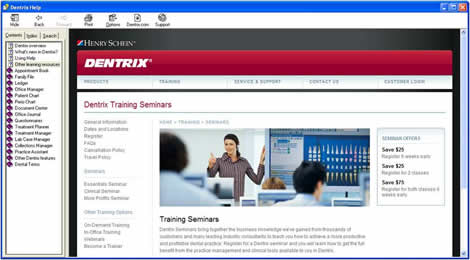 You can even click a Customer Support link and initiate a chat session with Dentrix Support: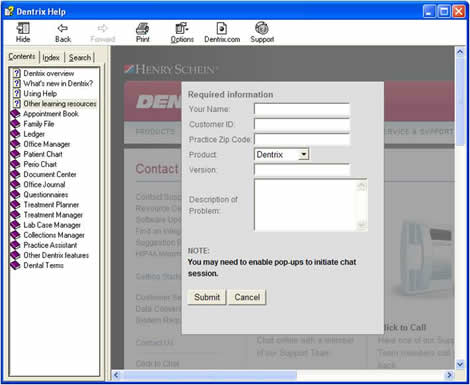 Note:
Additional buttons for "Dentrix.com" and "Support" have also been added to the Help toolbar that link to the Dentrix.com and Dentrix Support Web pages respectively.
Improved Content
The Dentrix Help content has been recently reviewed and improved in several significant ways:
Screenshots and graphics have been added, so you have a visual reference point when working in program windows, dialog boxes, and other parts of the software.
Additional hypertext links have been added, making it easier to find related information.
The Help table of contents has been reorganized so you can locate topics more easily using fewer mouse clicks.
All the Help content has been re-indexed, making it easier to find information using a variety of key words.
Enhanced Layout and Readability
Several design and layout changes have been made to the Dentrix Help to improve its readability and usability:
The body text font was changed from Garamond (a serif font) to Microsoft Sans Serif to make it easier to read online.
Procedure introductions (such as "To set up your walkout statement default options" in the example on the next page) were made more visible by placing them in bold text, using new paragraphs, and increasing the paragraph spacing. This will make it easier to locate the beginning of a procedure and read a quick summary of what the procedure does.
The numbers in procedure steps are now bold, and the steps use a hanging indent to help each step number stand out along the left margin.
The "step headers" for each step were removed because they were often redundant with the detailed procedure explanation that followed and were sometimes confusing.
Dentrix G4 PP7 Help
Dentrix G4 PP6 Help
With these enhancements to the Dentrix Help system, you'll be able to find answers to Dentrix questions faster, learn valuable tips and tricks, and improve your productivity.
Author:
Roger Gagon
Published:
05/04/2010